Camping brings your family closer together, and can be a very rewarding trip. The campgrounds you pick are also important, some have pools, rafting, nature trails and much more. You and your family are in for a lot of good memories that you will all create together.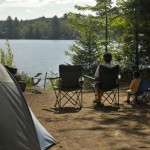 Delaware Family Campground, Delaware, NJ
Delaware River Family Campground is an ideal resort setting for a memorable family vacation. We invite you and your family to experience the wonderful outdoors in the breathtaking Delaware River Water Gap area. Whether you take to the river in a raft, canoe or tube; hike the Appalachian Trail; or relax around the Resort, there is something for everyone to enjoy. This is a privately owned campground on the Delaware River. There are many tent campsites right on the river. All campsites have trees for shade. Many sights have privacy. The local area has hiking, gorgeous mountain roads for a nice drive, nearby stores for anything you might need and farmer's markets. The Lakota Wolf Preserve is nearby to view howling wolves in a natural surrounding..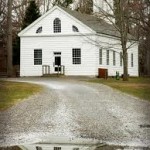 Allaire State Park, Farmingdale, NJ
Nestled so close to the Garden State Parkway and the Jersey Shore, it is a hidden gem of a park that allows you to relax, exercise, and learn all in one place. A favorite is a working narrow gauge railroad that sure to be a hit with children and any train enthusiast. There one can learn and see and touch a part of the old steam locomotive history or buy tickets and go the loop. But that is only one of the attractions here, trails go through the park for a nice scenic walk. Also, there is the old town with a working ironworks and a bakery gift shop if you are in need of gifts or just a snack. People dress up and play the life of the 1830's town and there always seems to be something going on, from music to lectures to events like the ever growing wine festival that happens usually twice a year. The campground is a short hike to the village, and has tent sites, yurts, and bunkhouses that are rustic but clean. Find more RV parks and Campgrounds in the Farmingdale area.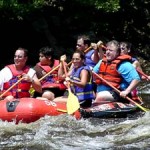 Whitewater Challengers, Weatherly, PA
Whitewater Challengers has a great arrangement. There are multiple sections of the river where they run whitewater rafting trips from their campground. The river trips are for ages 7 and up, and range from casual rapids to more extreme on dam release days). They also have a zipline, buffet meals, evening programming, paint ball, and a ropes course. The campsites are spread out with bathroom facilities.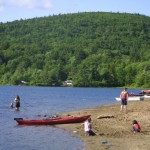 North South Lake, Haines Falls, NY
If you're looking for a little bit of civilization and a little bit of the wilderness all mixed into one then this is the perfect campsite to consider. It lies two hours from New York City, close to Hunter Mountain in the Catskill Mountains. Campsites ring the northern half of the lake, and the more tranquil south section holds picnicking areas and boat rentals (20 dollars will get you a rowboat, canoe or kayak for an entire leisurely day). Created during the WPA days, this small and serene state park has well maintained beaches, hiking trails and clean facilities.
Hither Hills State Park, Montauk, NY
This is an awesome destination if you would like to camp on the beach. The facilities are very clean in this state park, with showers and bathrooms. It's in a great location, so take some time to visit the town of Montauk and especially the lighthouse.  There are trail rides nearby, hiking and country stores in town. It has been called the most beautiful and well kept campground on Long Island.  The only problem is so many people know how great this campground is, that you have to book your campsite almost a year in advance. They also hold different events and movie nights to keep kids entertained, if they are not already having enough fun camping on the beach.
Also, Here's a Good Read on How to Camp
at the Top National Parks by Roverpass.com