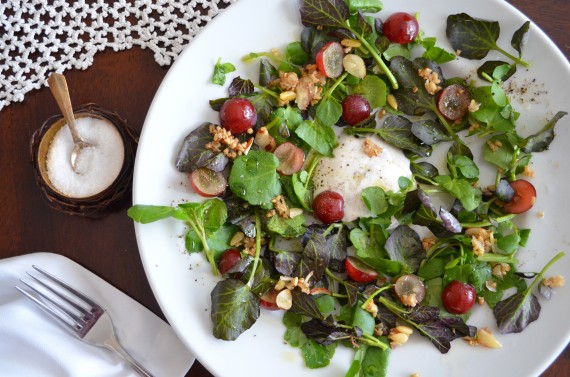 prepared by and photo by Emily S.Downs

The beauty of this salad, in addition to it's appearance, is that all of the elements that go into assembling it, can be prepared a day ahead. Another possibility is to forego the homemade granola and pick some up from the help-yourself "bulk" area at Whole Foods. Their vanilla flavored works wonderfully.

Size:

8 servings



Ingredients:
1 cup plain whole-milk Greek yogurt
1/4 buttermilk
1 tsp caraway seeds, toasted, ground (I grind in coffee bean grinder)
Kosher salt, freshly ground pepper
1 tbsp sugar
3 tbsp slivered almonds
3 tbsp steel-cut oats
1 tbsp pine nuts
8 cups watercress, arugula, or upland cress, tough stems removed
1 lb large seedless red grapes, halved
Extra-virgin olive oil



Directions:




Whisk yogurt, buttermilk, and caraway seeds in a small bowl to form a thick dressing, season with salt and pepper (can be made 1 day ahead. Cover and chill).

Preheat oven to 300F. Stir sugar and 1/4 cup water in medium microwave safe bowl. Microwave on high until mixture is simmering and sugar is dissolved, about 30 seconds. (Alternatively, combine sugar and water in a small saucepan over medium heat until sugar is dissolved.) Stir in almonds, oats, and pine nuts. Let stand for 5 minutes (it's okay if not all liquid is absorbed). Spread out mixture on a rimmed baking sheet.

Bake mixture, stirring occasionally, until golden brown and crunchy, about 35 minutes. Let cool completely in pan on a wire rack. Break granola into clusters. (Granola can be made 1 day ahead. Store airtight at room temperature.)

Spread 2 tablespoons dressing in center of each plate. Scatter watercress and grapes around dressing; drizzle salad with oil and season with salt and pepper. Top with granola.