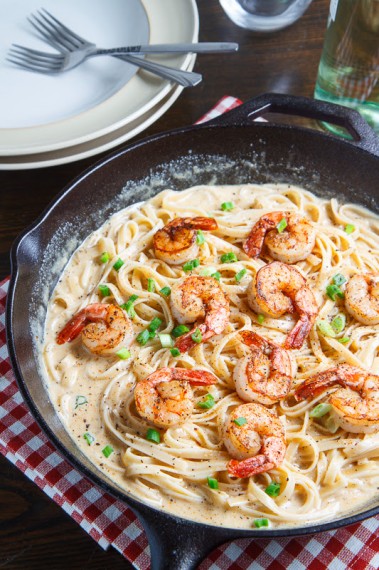 closetcooking.com

Spice up an ordinary Alfredo dish with a little Cajun flare. Give Closet Cooking's 20 minute-to-make recipe a go. Lesson the degree of how much Cajun spice you use if desired. Or add… up to you.

Size:

4 servings



Ingredients:
8 oz fettuccine (or whatever pasta you prefer)
1 tbsp butter
1 lb shrimp, peeled and deveined(I buy frozen at Costco)
1 tbsp cajun seasoning
1 clove garlic, minced
1/4 cup dry white wine or chicken broth
1 cup heavy/whipping cream
1 cup Parmigiano Reggiano (Parmesan), grated
1/2 tbsp Cajun seasoning or to taste
1/4 cup green onion, sliced (optional)



Directions:




Start cooking the pasta according to box directions.

Melt the butter in a pan over medium-high heat. In a medium bowl, toss the shrimp with 1 tablespoon of Cajun seasoning; add to pan and cook, about 2-3 minutes per side, and set aside.

Add the garlic to the pan and sauté until fragrant, about 30 seconds.

Deglaze the pan with the wine, add the heavy cream, Parmesan and 1/2 tablespoon Cajun seasoning and cook until it thickens a bit, about 3-5 minutes.

Toss the pasta in with the Alfredo sauce along with the shrimp. Garnish with green onions and serve.