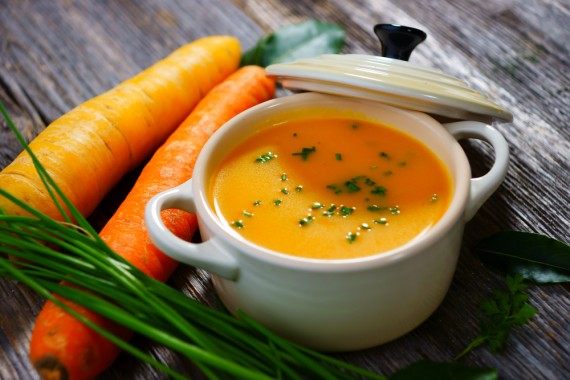 Vichyssoise is taken up a notch with the sweetness of carrots and the zing of fresh ginger. Served chilled so it makes a refreshing soup on a warm summer's day.

Size:

serves 5-6



Ingredients:
1 cup thinly sliced leeks (about 2 large)
2 tbsp butter
21/4 chopped onions
1/4 lb carrots, peeled and thinly sliced (about 3 medium)
2 1/2 tsp minced fresh ginger
1/2 lb all-purpose potatoes, peeled and thinly sliced (about 3 medium)
1/2 tsp salt
1/2 tsp pepper
OPTION: 1-3 tsp sugar if carrots themselves are not particularly sweet
1 1/2 cups chicken stock
3 cups half-and-half
OPTION: Minced chives or slivered candied ginger for garnish



Directions:




Soak the sliced leeks in cold water to remove any grit, then rinse well under running water. Melt the butter in a medium-size saucepan. Add the drained leeks and onions and saute until wilted and translucent. Add the carrots, ginger, and potatoes. Saute and stir several minutes. Add the salt, pepper, optional sugar, and chicken stock. Cover and let simmer until the vegetables are very tender and can be easily mashed with a fork (about 10-15 minutes). Puree in a food processor and then strain through a fine sieve. Chill thoroughly. Blend in the half-and-half. To serve, ladle into chilled small soup bowls or cups. Garnish each serving, if desired, with minced fresh chives or slivers of candied ginger.