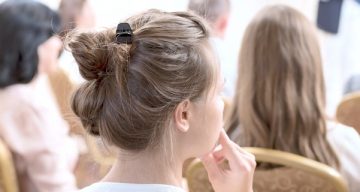 We all know breast cancer is one of the most common health crises among women. Most likely, it's already touched your life in some way.  And as mothers, many of us put our family's health before our own neglecting to schedule mammograms and self-test. Meanwhile, more than 200,000 women in the U.S. are diagnosed with breast cancer each year. 1 in 8 women will be diagnosed in their lifetime. Fortunately, there are many steps you can take to lower your risk of breast cancer. And while getting a screening can't prevent breast cancer, it can help get an early diagnosis making it more treatable. We'd like to urge you to take 2 hours out of your week to learn more about how you can best take care of
your
health.
The Valley Hospital
and The New Jersey Cancer Education and Early Detection (NJCEED) Program are inviting women to attend a free 
Women's Health Seminar
 on 
Tuesday, October 10,
 from 
6 to 8 p.m. 
Hear guest speaker Eleonora Teplinsky, M.D., Director of Breast Medical Oncology, discuss women's cancer and women's health, with a
special interest in
young women with breast cancer.
She'll share tips on prevention and healthy lifestyle choices, as well as answer your questions.
Tuesday, October 10, from 6 to 8 p.m.
Fair Lawn Community Center, 10-10 20th Street, Fair Lawn, NJ 07410
There is NO FEE to attend but registration is required.