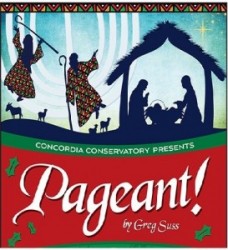 This year marks the Concordia Conservatory's 16th annual holiday feature, "Pageant!" a musical about how a traditional Christmas Pageant changes and brings the community together. With book and lyrics by Greg Suss, the story centers around St. Genesius parish. The parish has fallen on hard times and is trying to get more parishioners to attend services. They believe a new and exciting Christmas Pageant which inspire folks to come back. Everyone takes sides between holding onto tradition and taking a more modern approach—but does new and modern necessarily mean good? See how the adults, kids and the whole community come together in this one act musical comedy.
With a cast & crew of youth from ages 8 – 18 from Westchester County , the production team includes Greg Suss (stage director) Jon Klibonoff (music director), Audry Hamilton (choreographer) and Sharon Shearon (producer).
Tickets are $22 for adult;  $11 for seniors and children.
Since 1999, Concordia Conservatory has produced an annual holiday musical as a tuition-free community outreach program funded by private contributions from donors throughout Westchester County.
Performances are:
Friday, December 11: 7:00pm
Saturday, December 12: 11:00am & 1:30pm
Sunday, December 13: 1:00pm & 3:30pm
For more information: http://conservatory.concordia-ny.edu or call 914-395-4507.