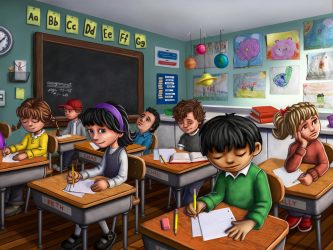 I'll cut to the chase. I was given the opportunity to work at a high school for two days to proctor Regents exams. This is generally easy work, decent pay and a good way to wean yourself back into the school year. The school I worked at was very shorthanded and teachers had very little "relief" – so therefore most of us were in the same classroom proctoring two exams with no lunch break and in sweltering heat. I'm not complaining – I'm glad I did it. However, if you're not familiar with the "rules" of proctoring, they are as such: you must ACTIVELY Proctor – no sitting around, no reading a book, can't play on a phone, can't use technology etc.You must walk the room for the entire three hours and actively watch the students work. Here is what was going on in my mind while doing so:
Can it feasibly get any warmer in this room?
That poor kid really needs deodorant
I hope my deodorant is working!
This socks and open sandals look is really big with these boys – I always remember making fun of my dad when he did it.
Obviously the ripped jeans trend took off in this area – glad I didn't wear mine! I would've looked like an idiot
I think I can actually pass this exam if I had to…wait, I think I actually FAILED this in high school….Hey, I'm not in high school anymore, I'm an adult. I can figure this sh$# out
Wow, look at that girl's nails – OMG they are FIERCE. (I then look at my own naked nails) – Note to self- get a manicure asap
Why is this boy wearing a fleece lined sweatshirt when it clearly reads 94 degrees in this room?
They are going so slowly – they're definitely going to go the whole three hours
Oh boy, this kid is fast asleep. Should I poke him? No, I'll get in trouble for "touching" a student. I'll just stand over him and chant his name
Are those two girls in the back talking? Don't they know it is a cardinal sin to chat during a Regents exam? You can get disqualified!
Oh, I hear Mr Softee -would love a Mr Softee cone right about now
How many times can one Assistant Principal circle the building holding a walkie but  appear to be doing nothing?
I wonder if I sweat any legit weight off today
One hour and 15 minutes left of this 3 hour exam! Woohoo only 8 kids left. Looks like maybe we can get out early!
I think I definitely walked 100,000 steps today
They must think I'm so hideous   – all my makeup melted off and my hair is being held up with pencils
One hour left. THANK GOD…Wait..WTH? This girl is on #52? OUT OF 82???? NOOO!
I wonder how many coats of varnish are on these floors – they're SO shiny. I can almost see myself!
I wish I could rock this blue and green hair thing – my kids would make fun of me though
I hope I remember all these things so I can write about them later. I wish I could write it down on paper, but we aren't allowed to use paper so I would get fired it I got caught. Oh great, now I have to count on my memory!
6 kids left and she is now on #56! It is going to be me and her in the end. PLEASE HURRY GIRLIE, I'M SO BORED AND HOT!!!!
I must have fabulous kidneys for a woman my age. I drank four bottles of water and only went to the bathroom once. Oh no, wait, maybe that's a bad thing. Maybe I have BAD kidneys. I'll have to WebMD this later
I really hope the dog isn't eating the couch. Or the cat. No, there's a greater chance at Lucy eating the dog!
This kid is moving so slowly. Poor thing. I feel bad. She's gonna be screwed.
Great. Now my GPS will take me home via the Van Wyck and we know what George Costanza says "Nobody has ever beat the Ban Wyck!" AWESOME.
Test is over in TEN MINUTES. I think they know I'm getting excited. I am smiling too much. Gave them the ten minute warning, the eight minute warning and now the five minute warning. Think I sound too eager to get rid of them…
OK, let me do the math one more time- How much do I get paid for this? Ok, right, that's why you're here. It's ok you're a mess – it is not a beauty contest. It is for the kids…But it's too Flipping Hot!