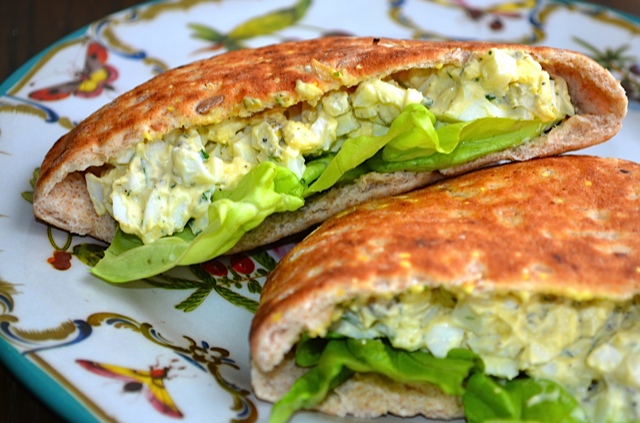 prepared by and photo by Emily Doscher

Egg salad is delicious anytime of the year.  I love this version with fresh herbs and multigrain pita bread. Terrific way to use those hard-boiled eggs you all dyed for Easter!

Size:

makes 4



Ingredients:
12 hard-cooked eggs, peeled, cut into 1/4" dice
1/2 cup mayonnaise
2 tsp finely chopped fresh dill
2 tsp finely chopped fresh tarragon leaves
1 tsp finely chopped fresh chives
2 scallions, white parts only, finely chopped
Zest of 1 lemon
2 tsp drained capers, rinsed
Coarse salt and freshly ground pepper
4 pita breads



Directions:




Gently stir together eggs, mayonnaise, dill, tarragon, chives, scallions, lemon zest, and capers in a mdeium bowl using a rubber spatula.  Season with salt and pepper.

Cut 1″ from top of each pita to open pocket.  Fill each with egg salad, dividing evenly.  Refrigerate in a airtight container until ready to serve, up to 4 hours.