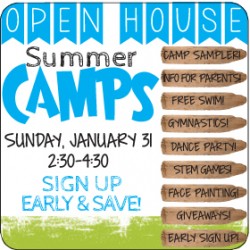 Are you dreaming of summer? Get a taste of Summer Camp at The Connection's Camp Open House this Sunday, January 31 from 2:30PM until 4:30PM.
There will be plenty of fun – and free –  events for adults and children!   Bring your bathing suit and let the kids take a dip in the pool.  Then try out gymnastics and assorted sports.  Go to the dance party or enjoy STEM games and face painting.
Parents can gather information on all the camp options offered this year.   PLUS there will be an early registration option: Sign up for 2-4 weeks of summer camp at the open house and receive a $50 credit to use towards future classes. Sign up for 5-8 weeks of camp at the open house and receive a $100 credit to use towards future classes.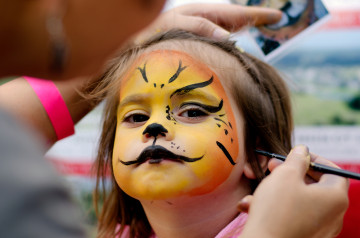 What's available this summer? Well for more than 90 years, The Connection has provided children with new and rewarding experiences and this year is no different!   Day camps at The Connection bring together children of all abilities, backgrounds and economic circumstances. Specialized camps and programs include: swimming, gymnastics, performing arts, yoga, sports, outdoor play, games, STEM inspired activities, arts and crafts. There are half day and full day options, as well as early drop off and "Campers Club" where campers can stay until 6:00PM.
Full and Partial Scholarships are available. The Connection is licensed by the State of New Jersey and all of the staff is certified in American Red Cross CPR and First Aid.
Click here for more information on the free open house, as well as more information on camps and schedules.