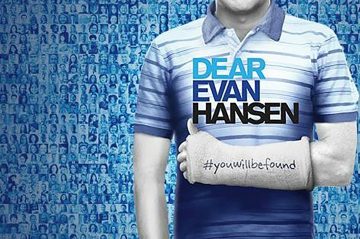 My girls surprised me the other day with a voucher for any Broadway show I wanted to see with their dad. (Young moms, here's something to look forward to. It is really nice to have older kids who spend their own money on you.) The plan was for me to make a list of my top shows, for us to go the next night, and for Larry to get any tickets he could. My number one was Dear Evan Hansen. Debuting on the tails of the Hamilton craze, I've often heard it compared to Lin Manuel Miranda's phenomenon, and I have been wanting to see it for about a year. I wasn't hopeful, but Larry got great seats AND payed below face value. There are lots of benefits to flexibility.
The Hamilton comparisons are a stretch, as the shows are nothing alike. With a cast of only eight, a sparse, social media inspired set and a darker, more contemporary theme, it evokes teenage and parent angst and addresses the ridiculousness and danger of our "please Like me" driven society. While the content is heavy, the songs are beautiful, addicting and even humorous. The actors were incredible, and we spent the next hour talking about how they can maintain that level of intensity night after night.
As far as the kids go, I would say kid dependent. My third girl is 13 and I think she would love it. Younger than that, it may not be worth it, as to fully appreciate the show, I think you have to be living it a bit. Go if you can. If you can't, listen to the soundtrack, and if you are a mother, listen to So Big / So Small by Rachel Bay Jones with a box of tissues nearby.