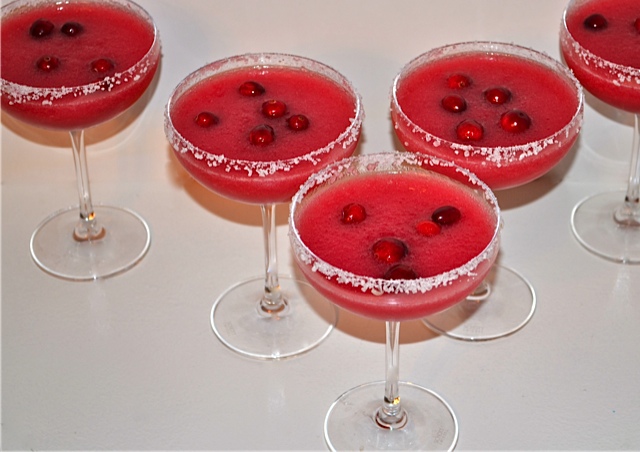 prepared by and photo by Emily S. Downs

I love me a Margarita during any season, but with the holidays approaching cranberries give the classic cocktail that special twist.  Festive, bright and oh-so tasty.  This recipe makes a decent size batch.  A win-win for everyone.

Size:

12 drinks



Ingredients:
1 1/4 cups premium tequila
1 1/4 cups frozen cranberry juice cocktail concentrate, thawed
1 cup canned jellied cranberry sauce
10 tbsp fresh lime juice
6 tbsp orange liqueur (such as Grand Marnier)
7 cups ice cubes
Coarse salt
Cranberries (garnish)



Directions:




Blend tequila, cranberry juice cocktail, canned cranberry sauce, lime juice and orange liqueur in blender until smooth.  Transfer to large glass measuring cup.  Pour half of Margarita base into blender; add 3 1/2 cups ice cubes.  Blend until mixture is slushy; pour into salt-rimmed Margarita glasses.  Garnish with cranberries.  Repeat with remaining Margarita base and 3 1/2 cups ice cubes.