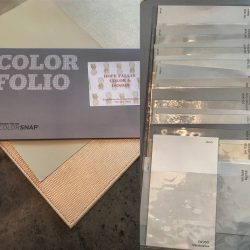 Are you planning to sell your home this spring? If so, you may know that you will need a professional home stager. But, did you know that color staging is just as important? Color staging will help ensure you sell your home quickly and at the highest price. A home that is updated, especially in terms of color, will spend less time on the market and will lead to more offers and fewer price reductions. In a recent survey of potential buyers, researchers found that the first thing buyers notice when looking at pictures of a home for sale on the internet is the color of the walls. Buyers want and expect to see a modern, neutral cohesive color palette.
Even though design shows are everywhere these days, and we all deep down know that changing the paint colors of a home is one of the easiest things to do, buyers have a guttural response to colors that are either outdated, too bright, or not cohesive — especially in an open concept home. You want to get buyers into the home and the best way to do that is to spend the money to update your paint before you list the home. You do not want your home to get the stigma of being a "fixer upper." If your home is outdated in terms of color, e.g. a peach living room and maroon kitchen, then potential buyers, and sometimes even local realtors, will not take your home seriously. It will be stigmatized before buyers even have a chance to see it.
The only caveat to my advice about color staging is if your home truly is a "fixer upper." In that case, do nothing. If your home needs to be gutted and rebuilt to be lived in, then it is not worth spending money on any type of staging. For the majority of home sellers, this is valuable advice. Most sellers will touch up their paint before listing their home anyway, as we all end up living with marks on the walls or trim that is nicked (even a color designer like me has marks going up my stairs from my teen's ski bags.) There is no reason not to spend a few extra dollars to color stage your home before you put it on the spring market. Return on investment for painting a home prior to listing it is 3:1. Most homes in this area will cost about 15k to update color and paint the interior. However, on average, you will sell your home for between 30-45k more than if you had not color staged. I will give you the most critical do's and don'ts, but if you are overwhelmed by this task, I highly recommend hiring a professional color stager to help you choose the absolute right colors in order to sell your home. Feel free to contact me at Hope Fallin Color & Design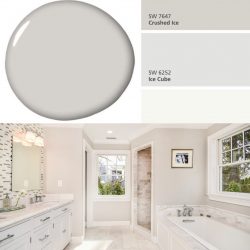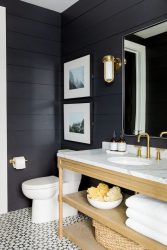 Do's:
1. Make sure your color scheme is neutral and modern. Neutral does not mean 90's tan. Use a greige or gray with a strong undertone depending on the other finishes in your home (floor color, tile, etc.)
2. Stick with light and airy colors.
3. All trim and doors should be the same color- my favorite is Benjamin Moore Super White. I use this on all ceilings too.
4. Invest in a modern wallpaper for your powder room and behind any built ins. If you don't want to use wallpaper in the powder room, use a bolder and/or darker color than you would in the rest of your home- ie navy, black, teal. (Google color designer if you need help.)
5. Paint any oak built-ins or kitchen/bath cabinets in a high gloss enamel paint. Nothing says outdated like old oak wood!
6. Choose a bold color that will coordinate with your exterior for your front door. Paint it in a high gloss sheen. Let your personality shine through here.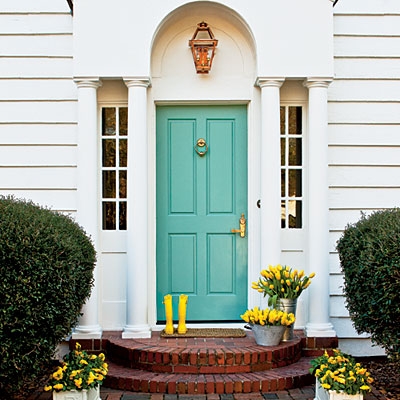 7. Hallways and stairways should be painted in a very light color or else they feel tight. This is especially true in older homes. My go-to colors for these are either Sherwin's "On the Rocks" or "Big Chill."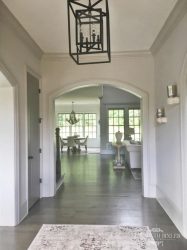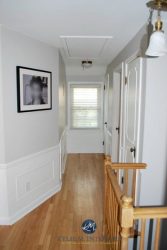 Don'ts:
1. No bright kids' colors even in their bedrooms. No hot pinks, purples, electric yellows or Barney purples.
2. No outdated color combinations, such as Gold/Red, Blue/Brown, Maroon/Hunter Green, or Peach/Mint Green.
3. No pure Grays- gray was a trend for the beginning part of the the 2000's- however the pure grays that started the trend do not actually work well. They wash out skin tones, making the people in the room appear and feel dreary. They especially do not work in pictures, because they are so cold and uninviting. Grays are still great choices, especially for modernizing a home with color staging, however they must have a strong undertone (blue, green, brown, etc.)
4. No colored trim. Trim should almost always be a white or offwhite.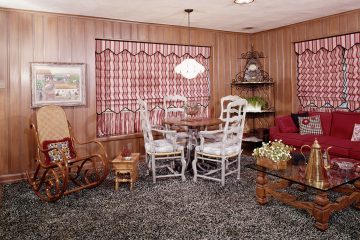 5. Every room should not be painted a different color. They can be different shades, but your kitchen should not be green, while your family room is blue and your hallway tan. Cohesive is the most important word when thinking about choosing colors for your home.
6. No stencils or sponge painted walls.
7. No wallpaper borders.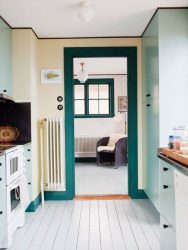 My Favorite Color Staging Paint Colors:
1. Sherwin Williams (SW) Agreeable Grey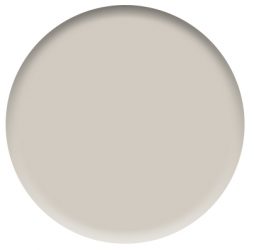 2. SW Light French Gray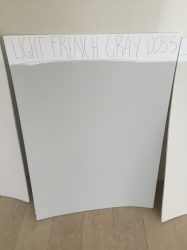 3. SW Zurich White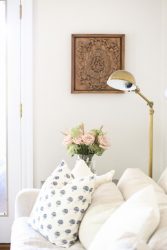 4. Silverplate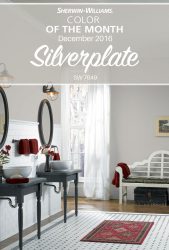 5. Benjamin Moore (BM) Balboa Mist
6. BM Revere Pewter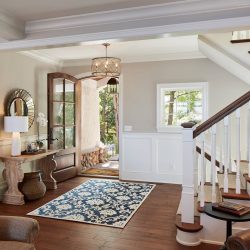 7. BM Pale Oak
8. BM Horizon
9. SW Big Chill
10. SW Alpaca
11. SW Maison Blanche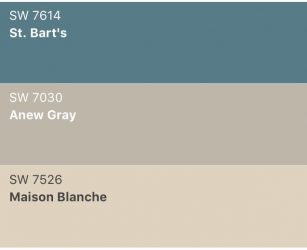 12. SW Pussywillow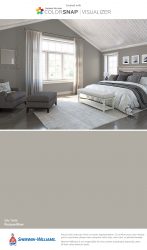 13. SW Eider White
14. SW Passive
15. SW Ellie Grey
16. SW Accessible Beige
17. BM Wickham Gray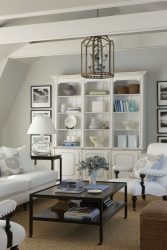 18. BM Moonshine
Wallpaper:
If your home has old, outdated wallpaper, you should consider finding a reasonably priced, modern wall covering to replace it with. It can be very expensive to get a wall back to a condition that it can be painted because many times the sheet rock will come down with the old paper. This is not true of wallpaper put up after 2000. Do not feel like modern buyers will be scared off by wallpaper.  Today's wallpaper is gorgeous and can give your home a designer look.
Dining Rooms are my favorite places to wallpaper. Most of my clients who wallpaper their dining room, choose a very neutral grasscloth as it gives texture but is not too graphic or busy. Buyers will love this look and will be comfortable with the neutral nature of it.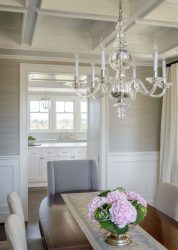 Bathrooms that have the 1950's/1960's tile — think black and yellow or black and pink squares — should not be painted. There is no paint color you can choose that will work, as you will end up with 3 big blocks of color. In addition, in photographs of your home, a potential buyer will only see OUTDATED. My go to trick is to find a wallpaper that has both of the colors in it. For example, if your bathroom has the pink and black tiles, find a cool, funky paper that has both pink and black. You have now just changed the bathroom from old to vintage, especially if you spend a few extra dollars on a new mirror, shower curtain, and hardware that pulls it all together. Millennials, who are the biggest group of real estate buyers right now, love VINTAGE !!!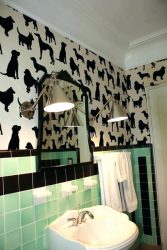 Add wallpaper to walk in closets- it's another inexpensive way to add that "design" factor to your home.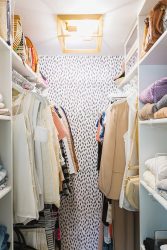 While it may seem overwhelming, a relatively small investment of time and money can make all the difference between a For Sale sign and a Sold one.
---
10 Avocado Recipes You'll Love
---
25 Ridiculously Refreshing Fruity Cocktails