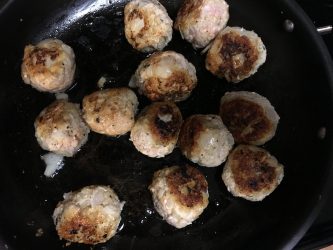 I have officially converted. Please don't tell my Mother.
I made the most delicious chicken meatballs EVA last night! Being raised in an Italian/American home I was raised on meatballs that were made from "chuck chop" – 100% lean ground beef.  Well, let me tell you, I have tried the "tri" combo of pork, veal and beef – and that too still didn't  top the  ground chicken meatballs. Here is what I added to my one lb of  ground chicken:
I wet bread (I happened to use potato buns) and shredded it into little pieces after squeezing out the excess water
Finely diced a whole white onion and sauteed it  in a pan with four cloves of minced garlic
Added Italian flavored Panko breakdrumbs – approx 2 cups
Added dashes of oregano and basil
Sprinkled Pecorino Romano generously over the entire mixture
I mixed this all together and decided I did not need the usual egg to bind my mixture. If your mixture is too "wet" then add additional breadcrumbs. Fry in a skillet over medium heat and brown on all sides. I like my meatballs well done so I cooked them over medium heat for about 20 minutes. I yielded 12 – put 8 in the sauce and kept 4 out for "snacks!" They really did come out tasty!