SECOND SEASON COMING IN APRIL:
If you finished all the seasons of Veep, and are looking for your next comedy to watch, check out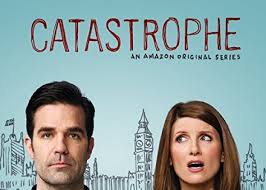 Catastrophe on Amazon Prime. It is about an American who travels to London for business and ends up having a one week fling with an Irish teacher. Months later, he is surprised to hear seven days of multiple sessions in the bedroom, and elsewhere, with no protection, led to pregnancy. She thinks he is an idiot, but he moves to London to be with her anyway.
The lead actors, Sharon Horgan and Rob Delaney are also the writers of this clever, often hysterical and sweet show. I binge watched five of the six episodes of season one in one night — which I never do — and now, I can't bring myself to watch the last one because I don't want it to end. Episodes are about half an hour each, so it is easy to get lost in one to the next.
If your TV is stupid like mine, you'll have to watch it on your computer or tablet, but if you have a smart TV, cue it up on the bigger screen. Make sure the kids aren't in earshot, and enjoy. Hope you like it as much as I do.