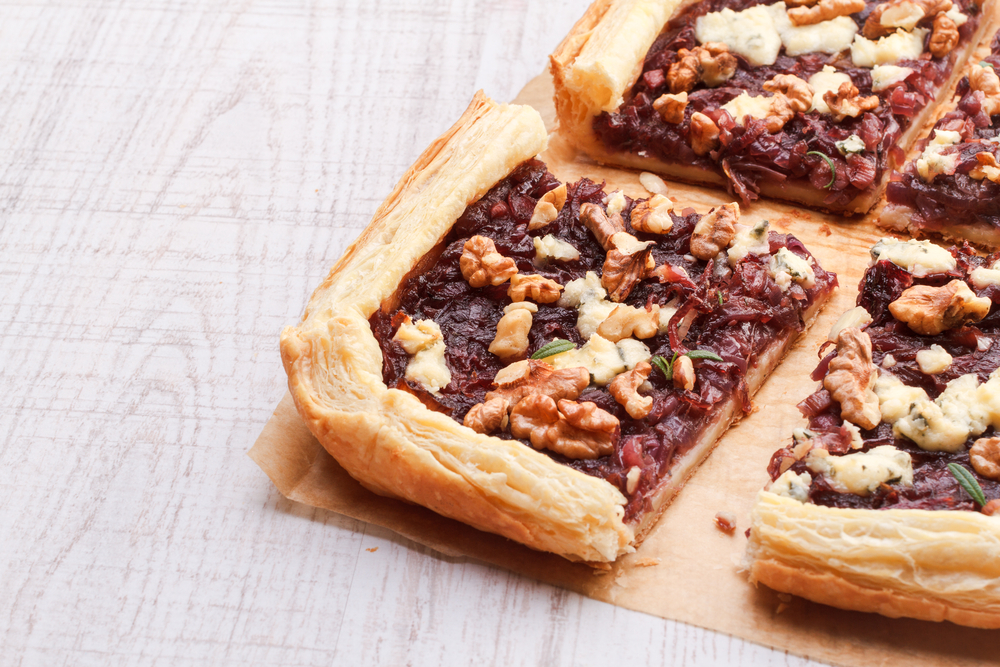 My usual go-to Breakfast is a smoothie but my Hubby is the King of breakfasts in our house. Here is one of his specialties:

Size:

4



Ingredients:
1 Thawed Puff Pastry Sheet (9 1/2 x 9 inch)
3 Large yellow onions thinly sliced
3 TBSP EVOO
1 clove Garlic, minced
1/4 tsp Lemon zest
1/2 tsp dried Thyme
1/4 tsp salt
1/4 tsp pepper
3/4 cup Goat Cheese
Honey
Parchment paper



Directions:



Adjust racks to middle and heat oven to 400 degrees.
Caramelize the onions in the EVOO over medium heat in a skillet until soft and browned. 10-15 Minutes. Season with Salt and Pepper. Add the garlic, thyme and lemon zest and cook another minute.
Meanwhile, cut parchment paper to fit a cookie sheet. Put the pastry sheet on the parchment and fold all edges in to form a 1″ border and press with back of a fork. Back in oven for 10 minutes until light brown. Then let cool for 5-10 minutes.
Spread goat cheese evenly on rolled pastry within the borders. Scatter caramelized onions across the cheese. Drizzle top with 1TBSP EVOO. Bake in oven an additional 12-15 minutes until pastry is golden brown.
Once out of the oven, Drizzle with 1 TBSP Honey. Cut into 2-3 inch squares and ENJOY!