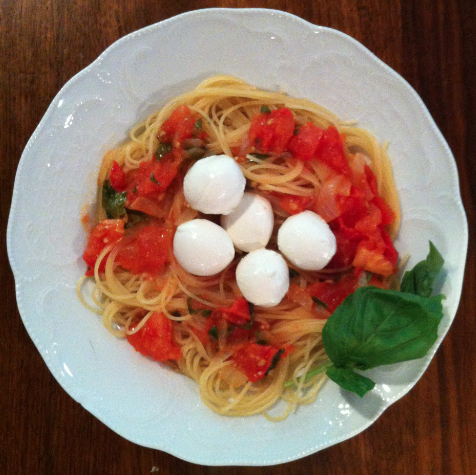 I only add the basil garnish when they are being really good;)

Quick and delicious fresh tomato and basil sauce with some "bird eggs" thrown in. Use as a side or as a main dish. This is a great warm weather alternative to a heavy red sauce. You can use gluten free pasta as well.

Size:

Serves 5



Ingredients:
1 lb. of angel hair pasta
6 fresh tomatoes chopped
8-10 fresh basil leaves
2 garlic cloves chopped
1/4 cup chopped onion
good olive oil
fresh bite-sized mozzarella balls
grated parmesan cheese if desired



Directions:




Put a pot of water on to boil. (Salt optional)
Saute onion and garlic in 3 tablespoons olive oil for about 3 minutes over medium heat. Do not let garlic brown.
Add chopped tomatoes and basil. Simmer for about 8-10 minutes.
Add salt and pepper to taste.
Meanwhile, cook angel hair pasta without overcooking. Drizzle with olive oil after straining to avoid sticking.
Lay pasta in a bowl like a little nest, making a dent in the middle.
Add sauce and mozzarella. (Sometimes you can find the really little mozzarella balls which my kids enjoy more.)
Optional: Sprinkle with Parmesan cheese

N.O.W.N. – If it is just for your kids with less picky palates, save time by using canned chopped tomatoes and frozen cubes of chopped garlic and basil.