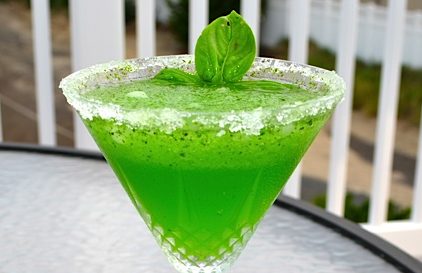 prepared by and photo by Emily Doscher

Big basil fan?  Than this is your cocktail.  A refreshing icy treat is the result, when pureed along with the orange-honey undertones of Lillet, a bit of vodka, sugary simple syrup, lemon juice and ice.

Size:

makes 2 drinks



Ingredients:
1 1/2 tsp sugar
10 medium basil leaves
4 oz Lillet Blanc
2 oz vodka
4 tbsp Simple Syrup (recipe below)
2 tbsp fresh lemon juice
2 cups ice cubes
Basil sprigs as garnish



Directions:




Place sugar on small plate or saucer.  Wet the outside rim of 2 chilled wineglasses with water.  Holding each glass by the stem, rotate rim in sugar to coat.

Puree basil leaves, Lillet Blanc, vodka, simple syrup, lemon juice, and ice in a blender until smooth.  Pour into prepared glasses, and garnish with basil sprigs.

SIMPLE SYRUP:  Bring 1/2 cup sugar and 1/2 cup water to a boil in a small saucepan over high heat.  Cook, stirring, until sugar dissolves.  Let cool (can be refrigerated for up to 1 month).