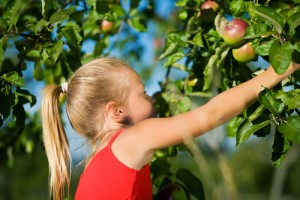 This week marks the start of apple-picking season in our area, when dozens of orchards open to the public. A perfect time to take the family and friends to a local orchard. Savor the fall sunshine with a picnic or homemade snacks. Bring home a whole host of memories–and a heck of a lot of McIntoshes. So get busy. The first few days after apple picking are devoted to making pies, applesauce, or a candied apple crisp.  You can use the extra fruit for art projects, such as stamping apple prints and making shrunken apple heads.
244 Wierimus Rd, Hillsdale, NJ 07642 (201) 666-0472. Bergen County's Demarest Farms does a great job offering apple picking. Beginning with a hayride past the peach trees to the apple orchard to pick apples, then off for cider and donuts back at the store, as well as a made-from-scratch soup and salad bar (some say the best in the county, made with homegrown vegetables and fruits), dried fruits, homemade ice cream, pies, decorations and treats to peruse during your visit. Demarest Farms has been offering apple-picking and hayrides for over 30 years, and have been an operating farm for nearly 125 years. Demarest Farms is known for more than 20 varieties of apples.
84 Route 513, Chester (908-879-7189, alstedefarms.com). Daily 9am–7pm through mid-November. Family Fun Days: Wed, Fri–Sun noon-4pm. This Garden State homestead has a lot more than apples to pick from. Visitors can load up on peaches, pumpkins, Indian corn, blackberries and raspberries throughout the fall. On Family Fun Days, little ones run wild in a bouncy house, take a pony ride, and hop along at the bunny run. There's also a corn maze.
330 Cold Soil Rd, Princeton (609-924-2310, terhuneorchards.com). This orchard is ideal for apple picking, with dwarf trees planted in blocks so that they're easy to find and plunder (no ladders or poles necessary). During free Family Fun Weekends they'll meet farm animals, get lost in a corn maze, take wagon rides, visit the theme story barn—and, naturally, pick plenty of apples and pumpkins. Wooded trails and the barnyard (filled with sheep, goats and ducks) are open year-round.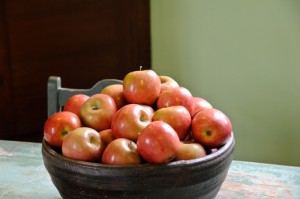 1111 Mt. Kemble Ave (Rte 202), Morristown (973-425-0840, wightmansfarms.com). Sat, Sun 9am–5pm through Nov 9. $11 pick-your-own fee (includes $8 back in coupons) plus $1.29 per pound. Think your kid has mastered corn mazes? The Wightman family—which started this homestead in 1922—has a plethora of labyrinths, including a crawl maze, giant hay maze, tile maze, pipe maze and a challenging rope maze. (Kids under 6 can play in the Kiddie Corn Pit, a giant corn-filled sandbox.) After plucking some peaches and Granny Smiths, swing by the market for healthy produce and not-so-healthy homemade apple-cider doughnuts.
82 Four Corners Rd, Warwick (845-986-1684, applewoodorchards.com). Opens September 4 daily 9am-5pm through late October. $24 for a half bushel. Choose from eight kinds of apples—Macintosh, Cortland, Rome Beauty, Red Delicious, Empire, Macoun, Honeycrisp, Gala, Fuji, Jonagold and Golden Delicious—at this upstate farm, which also sports a lush pumpkin patch, herb and rose gardens, and a general store stocked with myriad jams and jellies. While the kids enjoy weekend hayrides, puppet shows and visiting with live ducks, bunnies and sheep, parents can savor the on-site winery (just be sure to pick a designated driver!).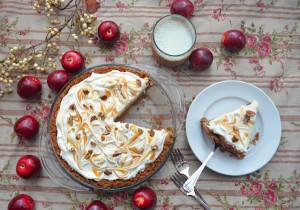 45 Ball Rd, Warwick (845-986-1058, maskers.com). Daily 9am–5pm through early November.  Perennial pickers swear by this 200-acre orchard with 20,000-plus trees. Visitors can drive right up and enjoy a picnic lunch under the tree of their choice. Don't be afraid to sample the goods: Here, unlike in Oz, snacking on apples while you pick is encouraged! Wagon rides, barnyard animals and pony rides add to the atmosphere on weekends. The town of Warwick is also home to Applefest on Sunday October 4 (warwickapplefest.com), and features live music, crafts and a highly competitive apple-pie-baking contest.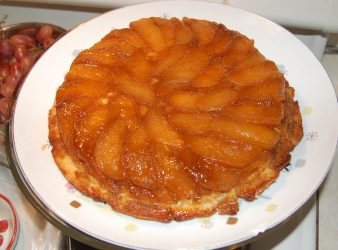 And when you get home, you can choose one of our delicious and easy recipes.The candy apple pie is the best pie I ever had and I love the Butterscotch Apple Upside Down Cake (above)!
An extra tip when apple picking…what to do if you are stung by a bee.