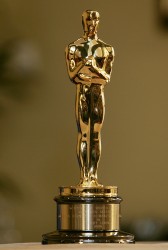 A hotly-debated contest with many possible contenders for the top spot? No, I'm not referring to the endless primary season and the quest for the White House…I'm talking about this year's Academy Award race for Best Picture. Unlike many past years, when the coveted award winner seemed a foregone conclusion (think Birdman, Titanic, The Departed) this year, it's anyone's guess.
Oscar night or as it's known in our house -mom's Super Bowl- is just days away. There appears to be three diverse front-runners for the biggest prize: the wilderness survival story The Revenant, the financial crisis "comedy" The Big Short and the whistle-blowing thriller Spotlight. Each film has scored multiple important pre-Oscar nods (Golden Globe, Directors Guild, Producers Guild and Screen Actors Guild awards tend to predict Oscar outcomes.) But I wouldn't count the critic's favorite Room out of the contest yet.
A three- or four-way race should make for a fun Oscar night. For those who want to play along at home, The New York Times has put together a printable Oscar ballot. Tune in to ABC on Sunday at 7. And if its more about the dresses than the golden statuettes for you, E! will begin their live from the red carpet coverage at 5:25 pm.