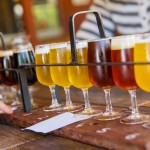 Get your palettes ready for 2 days of samplings craft beers from our town and others across the country for the Third Annual Cleveland Winter Brewfest! Breweries and beer enthusiasts from across the region will gather on January 22 and 23, 2016 for a sampling of over 350 fresh craft beers of all styles and tastes! The long line up of brews includes: Brooklyn, Cleveland Brewing Co, Dogfish Head, Fat Heads, Flying Dogs, Great Lakes, Jolly Pumpkin, Sweetwater, Thirsty Dog and more. Proceeds from the event benefit the Music Education Society, a non-profit organization dedicated to helping music programs in underfunded elementary and junior high schools. Tickets start at $45 for general admission. Doors open for regular admission at 7:30pm (Early admission at 6:30pm.)
Cleveland Convention Center, 300 Lakeside Ave E, Cleveland.
For tickets visit www.ClevelandBeerfest.com.