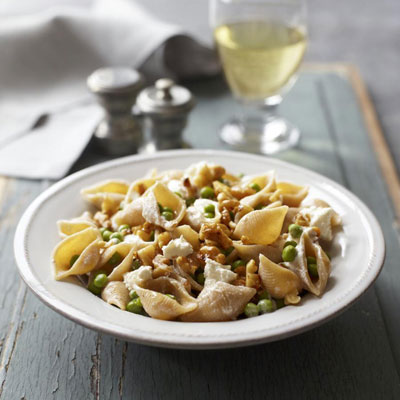 Whole Grain Shells with Goat Cheese and Walnuts

This 6-ingredient meatless meal is packed with lots of protein and healthy omega-3s.
Plus, it's delicious!

Size:

6 Main Dish Servings



Ingredients:
1/2 cup of walnuts
2 cloves of garlic, chopped
1 tbsp extra virgin olive oil
1 box medium whole grain shells
1 lb frozen peas
6 oz crumbled goat cheese



Directions:



Boil water in a 6-quart pot and salt generously.
In a 10-inch skillet combine walnuts, garlic and oil.  Cook on medium heat until golden and fragrant.  Stir occasionally and add salt and pepper to taste.
Put the pasta in the boiling water and cook 1 minute less than the directions say.
Add the peas and cook 1 minute longer.
Drain the pasta and peas but make sure to reserve one cup of the pasta water!
Return the pasta and peas to the pot.
Add the goat cheese and 1/2 cup of pasta water, and mix.  If mixture looks dry, add more pasta water.  Salt and pepper to taste.
Top with garlic and walnut mixture.
Accept compliments on your wonderful meal!