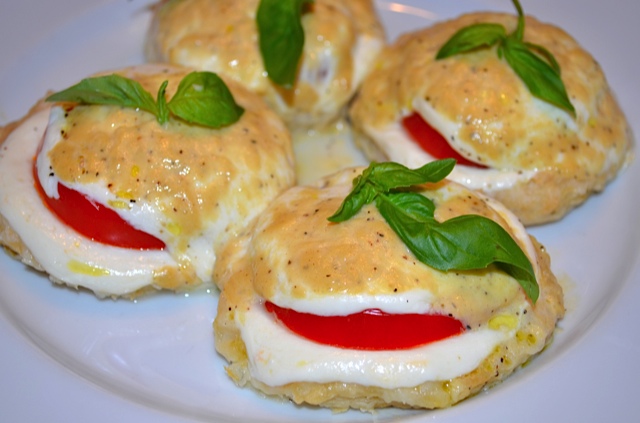 prepared by and photo by Emily Doscher

Just like a warm caprese salad on top of delicate puff pastry.  Serve as appetizer or side.

Size:

8 tartlets



Ingredients:
1/2 17.3 oz package frozen puff pastry (1 sheet), thawed
3 tbsp whipping cream
3 tbsp freshly grated Parmesan cheese
1 1/2 tbsp Dijon mustard
1 16 oz ball fresh mozzarella cheese in water, drained, cut into 16 1/4" thick rounds (any remaining cheese... eat)
8 1/4" thick tomato slices (from 3 tomatoes), drained on paper towels 15 minutes
1 tsp olive oil
Fresh basil leaves



Directions:




Preheat oven to 400F.  Roll out pastry on lightly floured work surface to 12″ square.  Using 4″ diameter plate plate as guide, cut out 6 rounds from pastry.  Collect scraps and re-roll, using 4″ plate, cut out 2 more rounds.  Place pastry rounds on parchment lined baking sheet, spacing evenly apart; pierce all over with fork.  Bake crusts until golden brown, piercing with fork if bubbles form, about 12-14 minutes (pastry "shrinks" when baking).  Flip once halfway during baking process.  Cool completely.  (Can be made 1 day ahead.  Store in airtight container at room temperature.)

Mix cream, Parmesan cheese, and mustard in small bowl to blend.  Season to taste with salt and pepper.  Alternate mozzarella cheese and tomato slices atop pastry rounds.  (2 mozzarella… sandwiching 1 tomato).  Sprinkle with salt and pepper.  Drizzle each with 1/4 tsp olive oil, then cream mixture.  Bake until pastry browns and cheese melts, about 7 minutes.

Place 1 tart on serving platter or individual small plates.  Top with basil leaves.