Okay, so the pressure is on and we have less than two weeks before Christmas arrives. You say your list doesn't seem to be getting any shorter? There always seems to be so much to do in so little time.  Well, here's a Tips idea to help you with one of your tasks this season. SHOP LOCAL!
I had the pleasure of doing just that in downtown Chatham, and I must say I found it to be quite enjoyable.  More importantly, I managed to avoid the inconvenience of mall shopping i.e. driving in circles to find parking, long lines, lack of assistance, and crowds!
Here are my gift picks and a recap of my Friday afternoon Chatham shopping experience: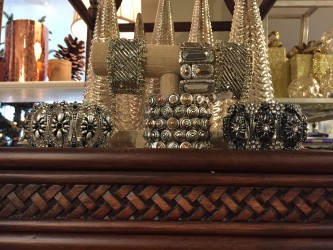 My first stop was Meli Melo. This is a lovely store that looks exceptionally beautiful with exquisite holiday décor.
Among the jewelry assortment, the bracelets immediately caught my eye.
I liked the trendier cuff-width and stylish designs.  Bracelet prices ranged from $38-$48 each. Purchase them now while all of Meli Melo's jewelry is 20% off.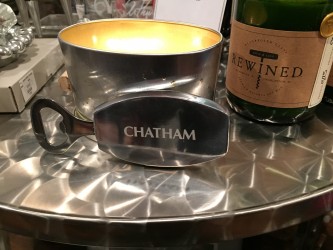 Next stop – Quartet, located on South Passaic Avenue. There I spotted a silver bottle opener with a "Chatham" inscription for $28. Great gift for a man, paired with a six-pack of his favorite craft beer.   If wine is preferred, they also have a silver bottle stopper inscribed with the 07928 zip code at $25. Pair that with a great bottle of wine and voila.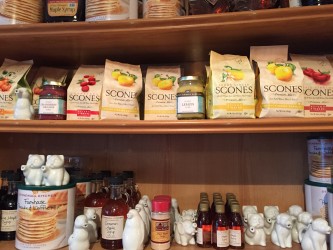 I then walked just two doors down and into T.M. Ward Coffee of Chatham. I always have fun choosing from the wide assortment of goodies in this charming shop.
With the winter season approaching I chose a scone mix, lemon curd, and assorted teas. Perfect for a cozy winter's day. Prices for these items range from $5.95-$12.95 each, based on quantity.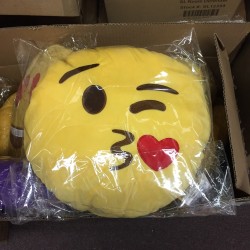 Now that I have 2 baby nieces I headed over to Jabberwocky on Main Street in search of wooden puzzles. Jabberwocky had a good assortment of Melissa and Doug puzzles starting at $10.99 each. The Fresh Start version had huge knobs, perfect for their tiny lil hands!
They had also just received a shipment of emojicon keychains and pillows, which I was told were very popular among kids. The keychains are $3.99 and the pillows are $16.99. Wrapping is complimentary with choices of paper.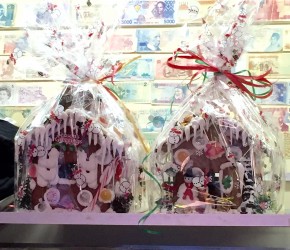 Now, time for a break, so I crossed Main Street to enjoy a cup of coffee at Cafe Beethoven. While sipping my coffee I noticed these beautiful Gingerbread Houses on display. They were quite large and the inside of each house contains a pound of assorted holiday cookies. If not found on the shelves, just a few days notice is all that is needed to place an order for a Gingerbread House at $80 each.
I am pleased to say that all proprietors/employees I encountered were helpful and friendly. There were a comfortable number of other shoppers in the stores, making it easy to browse and take my time.  And most provide gift bags or wrapping at no additional cost; therefore another timesaver!  Hope my Chatham picks help with this year's holiday to-do list. Fa la la la la!