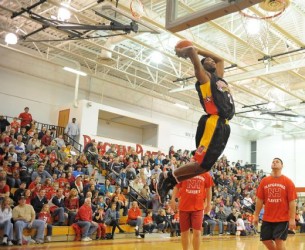 The Wizards are coming to town for a fundraiser! Be a part of the fun at 
Madison High School. 
If you've never been to one of their events, this
 is like a Broadway show on a basketball court. Get ready for high-flying entertainment and fun. From the time the Wizards step onto the court to themed music, the players deliver a choreographed trick and slam routine featuring tricks, dunks, humor, and audience interaction. An awe-inspiring, two-hour basketball show (inclusive of autograph session)!
Game begins at 7:00 pm; doors open at 6:00 pm.
Purchase
your tickets in advance. If available, tickets will be sold at the door for $20.
Madison High School, 
170 Ridgedale Ave, Madison, NJ.