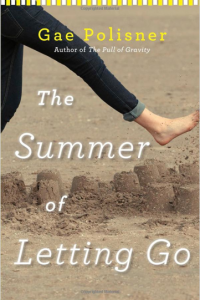 By
Gae Polisner
Year:
2014
Rating:
Purchase:
Buy Now!
Despite its categorization as an Young Adult novel, I loved Gae Polisner's wonderful new book, The Summer of Letting Go as much as my freshman daughters did. We each read it in the span of a few days and afterward had a really good mother /daughter book talk.  I've asked Charlotte Hamlet, age 14, to give her review. 
How significant a role does fate play in our lives? In the novel, The Summer of Letting Go, 15-year old Francesca "Frankie" Schnell meets Frankie Schyler, or "Frankie Sky" by chance. He's a wild 4 year-old with a sweet but inattentive mom and together they make an interesting pair. To Francesca, Frankie Sky is no ordinary boy – he bears a strange resemblance to Francesca's younger brother, Simon, who is now dead. Although Simon drowned in the ocean four summers before, the burden of guilt stills lingers over Francesca, who was there when he died. This fact motivates Francesca to pursue the eerie connection between the two boys. When Francesca takes a regular baby-sitting job for Frankie Sky, the similarity of he and Simon seems almost a reincarnation of her lost brother. Could Simon's spirit really be living inside Frankie?
Throughout the summer in which the story takes place, Francesca balances her time between exploring the mystery of Frankie with discovering the truth about her father's suspected affair, and hiding her desire for her best friend Lizette's boyfriend. Plus, she does her best to deal with her mother, who has been stuck in a mourning state since Simon's drowning. In one summer, Francesca learns to cope with confusion, heartbreak, and anger.  In the end, she defines for herself the true meaning of 'letting go'.
I loved this book. The writing was great and the story really kept my interest. It made me imagine what it would be like in Francesca's shoes. It was a book that I did not want to put down because I was so curious to see what happened to the characters. Francesca and Lizette felt like people that I know. I recommend this book for readers that are 13 and older.
-Charlotte Hamlet