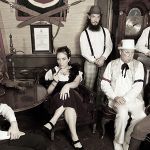 SPECIAL SCREENING OF NOSFERATU WITH LIVE SCORE BY THE INVINCIBLE CZARS AT THE PICTURE HOUSE REGIONAL FILM CENTER
Join the Picture House Regional Film Center (TPH) on Friday, October 14th at 9:00 p.m. for a special screening of 1922 classic horror silent film, Nosferatu accompanied by a live score performed by The Invincible Czars. The special screening and live performance is part of the Picture House's Friday Night Frights series which will highlight a different horror movie each week throughout the month of October.
The Invincible Czars began as part of the wave of acts that began creating soundtracks for silent films at the original Alamo Drafthouse in the early 2000s, and over the years have continued to add new movie scores, custom artwork, and unique wardrobes to their performances. Performing regularly throughout Texas, New Mexico, and Alabama, they are regarded by many as the Alloy Orchestra of the south. Their soundtrack for Nosferatu is written for four players and includes electric guitar, bass, violin, keyboard, music box, synthesizer, bass clarinet, flute, glockenspiel, bass guitar, and all manner of percussion.
A classic of German Expressionistic horror, Nosferatu is an unauthorized adaptation of Bram Stoker's Dracula that reinvents the vampire character as Count Orlok, a bald, spidery monster with rat-like fangs and giant claws. Filmed in moody low-angle camera angles to maximize the creep factor, Nosferatu was so unsettling when it was first released that rumors persist to this day claiming that actor Max Schreck really was a creature of the night.
Tickets to the Nosferatu screening and special live performance at The Picture House are $15/general admission and $12/students and seniors and are available at http://www.thepicturehouse.org/nosferatu-with-live-soundtrack-by-the-invincible-czars/ or at the box office, 175 Wolfs Lane, Pelham, NY 10803.