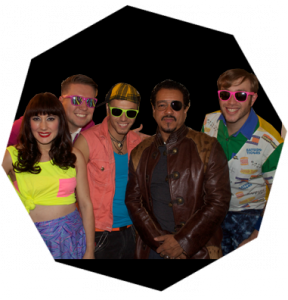 A tribute act is a music group who specifically plays the music of a well-known music act, sometimes one which has disbanded, ceased touring or is deceased. Most tribute acts are groups and are tributes to a group. It's a fun band thing for a fun night out.
90's Tribute Band
The Bayside Tigers are a 90s-themed party band. They provide a chance to sing along to the likes of Sugar Ray, Chumbawumba, Ace of Base and more.
Grateful Dead 
New England's long-running Grateful Dead tribute band Shakedown has been recreating that legendary jam band's epic concert experience for more than 20 years.
U2
Unforgettable Fire is one of the longest-running and most well-loved U2 tribute bands.
80's Tribute Band 
Jesse's Girl is an amazing 7-piece band brings back the '80s like no other, performing all the greatest hits live!
Led Zeppelin
Zoso have established themselves as the leading Zeppelin tribute band in the world by carefully recreating not just the look and music of the band, but also the tight-but-loose spirit of classic Zeppelin.
Neil Diamond
Super Diamond, also known as "The Surreal Neil", and "Super Diamond" and his band.
AC/DC
Based out of New York, Live Wire have performed the music of AC/DC on three continents, been featured on 'CBS Sunday Morning' and played live on XM Satellite Radio.
Van Halen
If you're looking for a dose of pure Van Halen, check out the Atomic Punks. The group pays tribute specifically to the early glory days of Van Halen — the classic David Lee Roth-fronted era, none of that Sammy Hagar stuff.
Guns and Roses
Axl Rose impersonator and Appetite for Destruction lead singer Rob Pfeffer has a previous claim to fame as the voice of many of the song parodies produced by Dan the Song Parody Man for The Howard Stern Show.