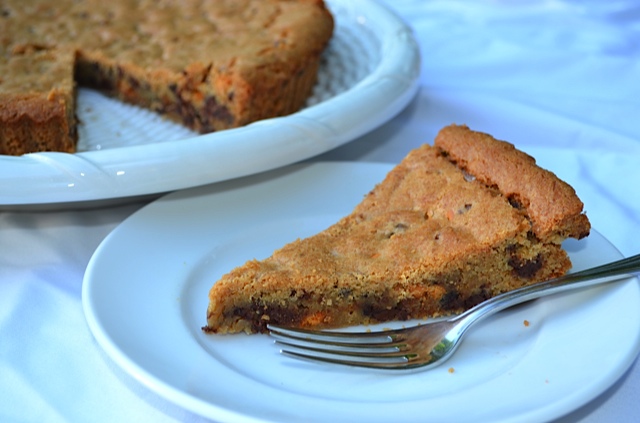 prepared by and photo by Emily S. Downs

Same recipe as Chewy Chocolate Chip Cookies.  Need three cups of this recipe for the tart.  An extra dozen cookies can be made with left over batter.  Use any chips or nuts you have in your cupboard to equal 2 cups.

Size:

8 servings, plus dozen or so cookies



Ingredients:
2 1/4 cups all-purpose flour
1/2 tsp baking soda
1 cup (2 sticks) unsalted butter, room temperature
1/2 cup granulated sugar
1 cup packed light-brown sugar
1 tsp salt
2 tsp pure vanilla extract
2 large eggs
2 cups chips... whatever you have... semisweet, milk chocolate, butterscotch, peanut butter chips, m&m's, chopped nuts, toasted coconut... OR a combo. Get creative.



Directions:




Preheat oven to 350F.  In a small bowl, whisk together the flour and baking soda; set aside.  In the bowl of an electric mixer fitted with the paddle attachent, combine the butter with both sugars; beat on medium speed until light and fluffy.  Reduce speed to low; add the salt, vanilla, and eggs.  Beat until well mixed, about 1 minute.  Add flour mixture; mix until just combined.  Stir in the 2 cups of "chips".

Drop and spread three cups of batter in a tart pan with a removable bottom.  Bake 12-20 minutes, or until golden and center is set.

For the extra batter, drop heaping tablespoon-size balls of dough about 2″ apart on baking sheet lined with parchment paper.

Bake until cookies are golden around the edges, but still soft in the center, 8 to 10 minutes.  Remove from oven, and let cool on baking sheet 1 to 2 minutes.  Transfer to a wire rack, and let cool completely.  Store tart & cookies in a airtight containers at room temperature up to 1 week.