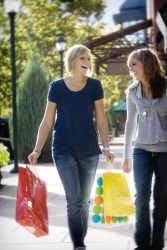 It's been hot and muggy in Summit these past few weeks, but the forecast for August 25th to the 27th is Sizzling!  That's when a host of Summit's independent, downtown merchants will once again hold their annual  'Sizzlin' Summer Sidewalk Sale' in the heart of downtown Summit.  More than 30 local merchants are expected to participate.
Shoppers should expect to find really great deals on end of season items, as well as terrific offerings on things you'll need for the start of school and the beginning of the fall. Special deals can also be found at some area restaurants, exercise studios and salons.  All within walking distance!
This fun event will run Thursday, Friday and Saturday at regular business hours.  So don't miss out on getting some school supplies at The Papery, the perfect hostess gift at The Teapot, something delicious at Sweet Nothings, or maybe even a special gift for yourself at Willow Street!
Here is a partial listing of the amazing downtown merchants who are participating.
Salon Capelli – Springfield Avenue inside the Strand Mall
exhale – Bank Street
Great House – Beechwood Road
Wool & Grace – Summit Avenue
J McGlaughlin – Beechwood Rd
A to Zoom – Springfield Avenue
The Tea Pot – Springfield Ave
A Home – Beechwood Road
Ahrre's Coffee – Springfield Avenue inside the Wine List
Donna Donaldson – Springfield Avenue
Lord Ivy – Springfield Avenue
Miss Juli's – Kent Place Boulevard
MONDO – Springfield Avenue
Murray & Finn – Maple Street
The Papery – Springfield Avenue
Photo Summit – Springfield Avenue
Scotti's – Springfield Avenue
The Red Balloon – Springfield Avenue
Silver Lining – Beechwood Road
Willow St – Springfield Avenue
Healthy Choice Organic Mattress – Springfield Avenue
Beauty Lounge – Maple Street
Walk Well Shoes – Springfield Avenue
Christian Science Reading Room – Springfield Avenue
Bombay Bistro – Springfield Avenue
Sweet Nothings – Beechwood Road