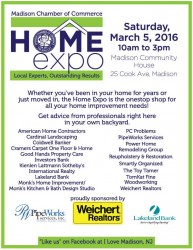 On Saturday, March 5 from 10AM to 3PM Madison will host the annual Home Expo at the Madison Community House, 25 Cook Avenue.  This a free event presented by the Madison Chamber of Commerce.
For the benefit of consumers, the Expo has gathered nearly 20 local contractors and home professionals.  They will be displaying superior products and explaining their services for homeowners looking to renovate, decorate, or enhance the appearance and value of their homes.  The Home Expo's participating contractors are intent on helping consumers make their homes more beautiful, safe, and energy efficient.
Home Expo will also be showcasing a select number of realty agencies and local banks who have much advice to lend on homeownership and financing options.
Major sponsors for the event include: PipeWorks Services, Chatham; Lakeland Bank, Madison; and Weichert Realtors, Madison.
In addition to its major sponsors, the Home Expo will showcase the following home professionals to include:
Cramers Carpet One Floor & Home
Good Hands Property Care
Monk's Home Improvement/Monk's Kitchen & Bath Design Smartly Organized, Reupholstery & Restoration
Cardinal Landscaping,
Better Homes & Gardens Real Estate/Coccia Realty
PC Problems,
Power Home Remodeling Group
TomKat Fine Woodworking
The Toy Tamer
American Home Contractors
Coldwell Banker,
Fulton Bank
Kienlen Lattmann Sotheby's International Realty
For additional information contact Karen Giambra at 973-377-7830 or email info@MadisonNJChamber.org