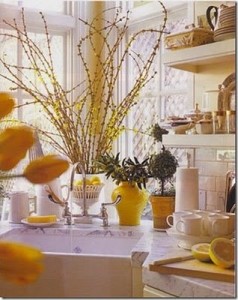 Embrace those April showers with a few simple chores that, done in advance, will make your summer a warm, leisurely breeze. Pretty soon, winter will be out of sight and, thankfully, out of mind.
Say goodbye to winter
Simple, seasonal interior updates are key to making your home fit for summer, creating that feeling that winter is a world away. Update your space with lighter, brighter accessories. Change out some throw pillows or curtains with brighter colors. Green plants and flowers always add freshness to a home's decor. Replace cool-weather bedding with warm-weather bedding, try throwing on a summer quilt.
Be ready to party
Be the ready for outdoor entertaining. Invest in accident-proof dishware from serving trays to drinking glasses (think melamine). Shop for stylish dinnerware and pick up some fun quotable cocktail napkins.
Freshen your airflow
Ensure a cool, cool summer. Replace your air conditioner's filter or have your central air professionally checked. Remove lint from the hose attached to the back of the clothes dryer, dust radiators and vacuum refrigerator grill and coil.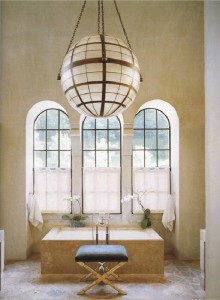 Clean Windows
Interiors can be made summery with just washed windows that have sparkling-clean glass . Thoroughly wash your windows with an equal parts water-vinegar solution and a squeegee. Using coffee filters to wipe can give streak-free results. Avoid washing when the sun is hot and shining, it will dry too fast and there will be streaks.
Flip the shed
Goodbye to your snow blower, shovels, salt and skis, it's time to bring forward your summer sports gear, lawnmower, fertilizer, hose, sprinkler and garden tools. Have them upfront, organized and easily accessible, so you won't be rummaging through the remnants of winter to access to your outdoor summer needs.
Make room in your freezer
Empty your freezer and defrost it fully, melting any icy build-up. Do an audit of what's in there, certain products lose texture and flavor over time, so throw out anything that's been in there for too long. With the extra freezer capacity, you can stock up on ice pops.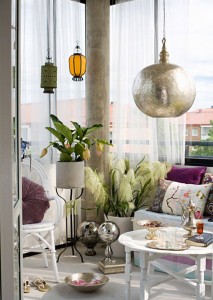 Spruce up your deck or patio
Most patio cleaning can be tackled with warm, soapy water, a scrub brush and a hose – your deck, outdoor upholstery, furniture, walkways, and even your hammock. After cleaning and arranging your furniture, create a mood with outdoor lights, flowering planters, candles and pillows.
 BBQ Boost
Give your barbecue a deep clean. Disconnect the gas, and clean with soapy water. Tackle the grill separately with a hard-wire brush – use oven or barbeque cleaner on particularly tough build-up. After cleaning, heat the barbeque, letting it run on high for about 10 minutes, before it cools fully. Finally, wipe the grates with a thin layer of cooking oil. Your grill may not sparkle like new, but you and your guests will enjoy better-tasting burgers.