The Center for Science Teaching and Learning (CSTL)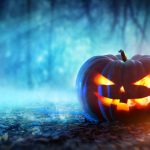 celebrates Halloween with Spooky Fest. This family friendly event will take place 7 days in October (see below for dates) from 6:30pm- 9:30pm at the Tanglewood Preserve in Rockville Centre, Long Island. Sixteen acres are transformed into a family friendly, Halloween event.
Wooded paths, exhibits, and festivities on the preserve will be featured, with eerie lighting, special effects, and characters along the way. Everything is perfectly spooky and a little scary. Creatures of all kinds inhabit the woods, the strange and beautiful will draw you into the eerie paths!
October 15th, 21st, 22nd, 23rd, 28th, 29th, 30th
Buy tickets at the gate from 6:30pm – 9:30pm
$10 for non-spooky attractions only; $15 for all inclusive attractions (includes scary, and non-scary)
No advanced registration or ticket sales available. Group rates not available.
$10 Admission Includes: Non-Scary Attractions
Halloween Theater
A fun Not-So-Spooky Walk in the woods for young children
Kids arts and crafts area
Amazing Animals Live Animal Exhibit
The Mystic Den
Friendly Merry Monsters
Face Painting
$15 Admission Includes: All Attractions (Scary and Non-Scary)
Haunted Woods- Scary
Maze of Zombies- Scary
Halloween Theater
A fun Not-So-Spooky Walk in the woods for young children
Kids arts and crafts area
Amazing Animals Live Animal Exhibit
The Mystic Den
Friendly Merry Monsters
Face Painting