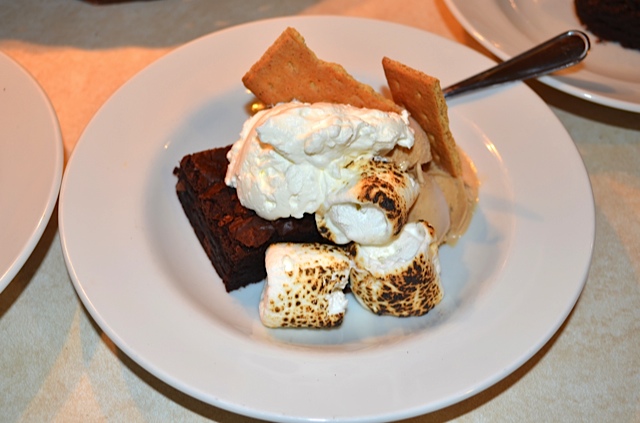 prepared by and photo by Emily Doscher

Bring the flavors of this camp-fire classic indoors.  S'mores in a sundae form will send them to bed with sweet dreams.

Size:

6 servings



Ingredients:
1 box of brownie mix (or if you're so inclined... homemade)
Coffee or chocolate ice cream, softened
6 graham crackers, broken into small pieces
1 1/2 cups mini marshmallows
18 large marshmallows
12 broken pieces from graham crackers
Hot fudge sauce
Whipped cream



Directions:




Make brownies according to box instructions.  Cool.  Cut into desired serving size.

Place ice cream in large bowl.  Mix in mini marshmallows and graham cracker pieces.  Freeze until firm, at least 2 hours.

Place one brownie in each of six bowls.  Place 1-2 scoops of ice cream in each bowl.

Thread 3 large marshmallows onto skewers; hold over gas flame or under broiler until charred.  Spoon hot fudge over ice cream.  Dollop generously with whipped cream.  Top each sundae with 3 toasted marshmallows each and 2 graham cracker pieces on each sundae and serve.