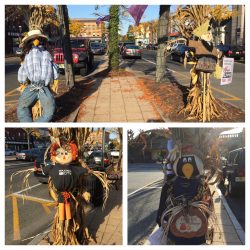 SCARECROWS have taken over Waverly Place
So much fun to again see all of the clever scarecrows lined up along Waverly Place in downtown Madison.  
Madison business owners who sponsor a scarecrow use creative ways to decorate and represent their business.  
More than 20 scarecrows will be keeping a close eye on downtown Madison through Wednesday, November 2nd.  
Be sure to take a few moments to stroll through this whimsical Fall display.  And let us know who created your favorite one-of-a-kind scarecrow this year!