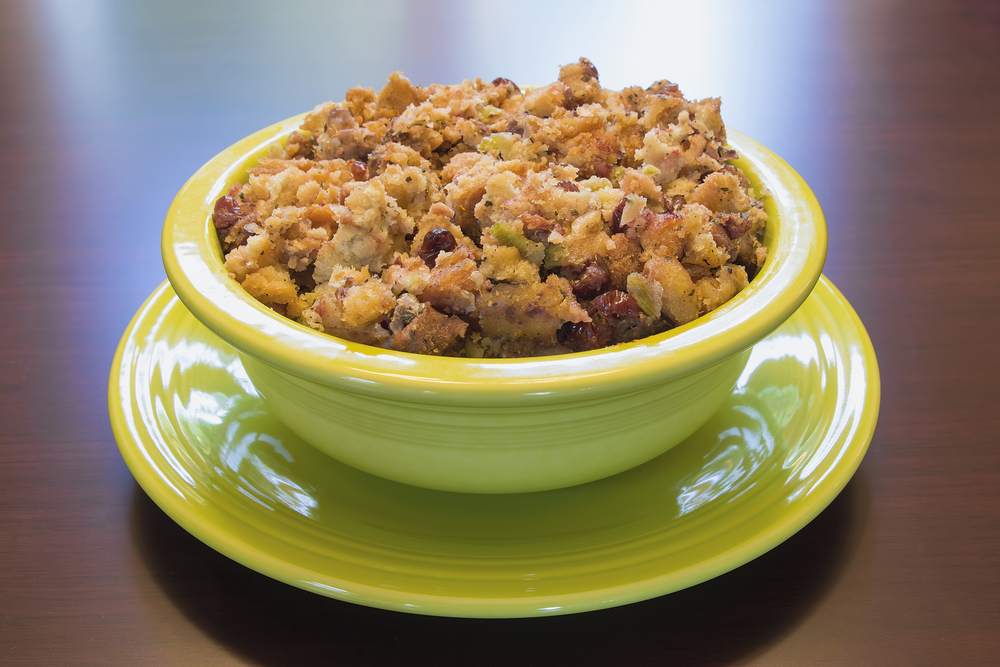 The Our Life Tastes Good blog of the website Yummy, posted a delicious and simple stuffing recipe incorporating an assortment of "Thanksgiving" ingredients. Be certain to click on the link here to learn about a few recipe prep tips.

Size:

8-10 servings



Ingredients:
6 cups cubed bread (baguette works well)
1 lb ground turkey sausage
1 cup diced onions
3/4 cups diced celery
2 1/2 tsp dried sage
1/2 tbsp fresh thyme leaves
1 golden delicious apples (cored and diced)
3/4 cups dried cranberries
1 tbsp parsley (freshly minced)
2 cups turkey stock (or chicken stock/broth)
1/2 sticks unsalted butter
Salt & pepper to taste



Directions:




Preheat oven to 350 degrees F.

Line a large baking sheet with parchment paper and spread 6 cups cubed bread in a single layer. Bake in preheated oven until evenly toasted – about 5-7 minutes. Toss the toasted bread crumbs into an oven safe bowl.

In a large skillet over mid-high heat, sear 1 lb sausage for about 3-4 minutes until the one side is nicely seared. Turn over and add 1 cup diced onions, 3/4 cup diced celery, 2 1/2 teaspoons dried sage, and a 1/2 tablespoon fresh thyme. Stir to break up sausage and combine with vegetables and seasonings and continue to cook until sausage is cooked all the way through and no longer pink. About 5-10 more minutes.

While the sausage is cooking, into bowl with the bread cubes add 3/4 cup dried cranberries, diced apple pieces, and 1 tablespoon freshly minced parsley.

When the sausage is cooked through, add the sausage mixture to the bowl with the bread crumbs and stir to combine all the ingredients.* Pour in 1-2 cups turkey stock and stir to combine. Add more turkey stock if you like. I recommend adding 1 cup, stir, and then add 1/2 cup at a time until you reach the consistency you like. Stir each time after adding stock. Give it a taste and adjust the seasonings to your liking.

Refrigerate until ready to heat and serve. Or you can freeze it.* I typically make this up in the morning, and put in the oven to heat through while the turkey is resting. You can also make this up a day ahead if you prefer. I don't stuff my turkey, because, generally, you have to cook it so much longer to ensure the stuffing is safe to eat that you end up overcooking the turkey. Cooked in the turkey or out, it's delicious either way.

*To freeze it up to 2 weeks in advance, after you cook your vegetables and sausage, toss the mixture  together with your bread cubes. Store in freezer safe container. The day of, break apart the frozen stuffing into smaller chunks and then combine with your stock-butter mixture. Transfer it to baking dish and bake.

To reheat: Cover with foil and cook in 350°F. preheated oven for about 20-30 minutes until heated through to your liking. Serve.