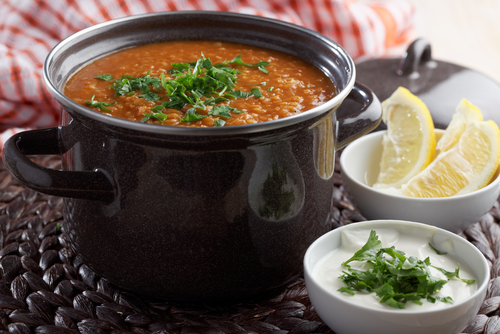 This is the best soup I ever had. It is healthy and easy to make. I double it every time.

Size:

4 servings



Ingredients:
3 tablespoons olive oil
1 large onion chopped(I buy pre chopped)
2 garlic cloves, minced (I buy frozen cubes of it at Trader Joe's)
1 tablespoon tomato paste
1 tsp ground cumin
1/4 tsp kosher salt
1 tsp black pepper
1 tsp of chili powder(more to taste)
dash of cayenne to taste
1 quart chicken stock(I buy organic)
2 cups water
1 cup red lentils
1 large carrot, diced
juice of 1/2 lemon, more to taste
2 tablespoons chopped fresh cilantro



Directions:



In a large pot, heat 3 tablespoons oil over high heat until hot and shimmering. Add onion and garlic, and sauté until golden, about 4 minutes.
Stir in tomato paste, cumin, salt, black pepper and chili powder or cayenne, and sauté for 2 minutes longer.
Add broth, 2 cups water, lentils, and carrot. Bring to a simmer, then partially cover pot and turn heat to medium-low. Simmer until lentils are soft, about 30 minutes. Taste and add salt if necessary.
Using an immersion or regular blender or a food processor, purée half the soup then add it back to pot. I used the immersion blender right in the pot. Soup should be somewhat chunky.
Reheat soup if necessary, then stir in lemon juice and cilantro.