Recently, we hosted a dinner party for a library fundraiser. We had to pick a book and work within its theme. In June, we chose a baseball book set in Yankee Stadium, assuming, as the spoiled fans we are, we would be surrounded by Bronx Bombers playoff excitement in October. No such luck. Still, the party turned out pretty well, with planning that started the day before.
Whether you are hosting a kids' birthday for a young fan, a team celebration, or a grown up dinner during the fall classic, here are some simple ways to embrace America's game.
Baseball Centerpieces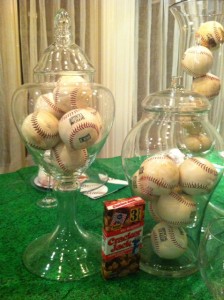 Fill a few vases with baseballs and call it a day. No baseballs at your house? I guarantee one of your neighbors has a bucketful.
Round Table Conversion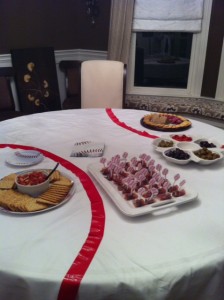 Red duct tape can turn a white tablecloth into a hardball in less than a minute. Leave the imperfections, they'll look like the stitching.
Snacks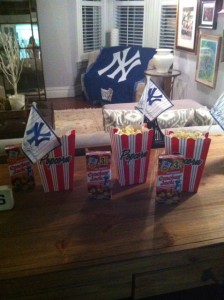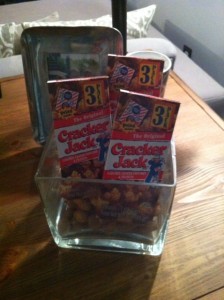 Buy me some peanuts and crackerjacks, and place them strategically around the room. Found at the Dollar Store.
Food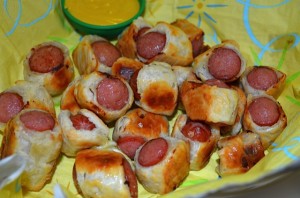 Check out our food page this week for some great ideas, but don't forget the basic crowd pleasers: pigs in a blanket and warm pretzels with mustard.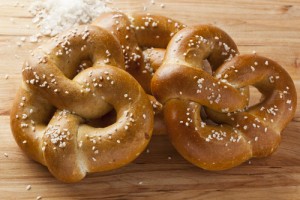 Offer something for your guests to take home. Even adults want a party favor. I love these cotton candy cones from Erin's Dollar Store Birthday Favor post — great for any party, but they are so cute, they may just inspire a carnival theme all on their own. Throw some Baby Ruth mini bars in the bottom of the bag for some added baseball themed sweetness … DAMN, I just thought of that!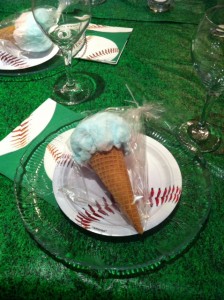 *All the little extras, such as plates, napkins, toothpicks, etc. were purchased at Party City.