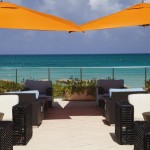 All fun. No Stress. Looking for some great girls weekend trips? Lots of travel destinations offer a chance for fun girl getaways, and an escape with the girls can be one of the best vacations around. Need inspiration? Embarking on a journey with close friends tests your boundaries as individuals and is a powerful bonding experience. Plan a memorable weekend that combines life's luxuries and unforgettable experiences.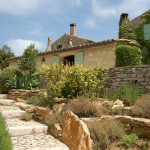 CULINARY VACATIONS
Once you've got an apron on you and your pals can learn to improve your cutting and cooking techniques as you prepare gourmet meals. The best part of the day is enjoying the fruits of your hard labor. That's why the the women-only culinary vacations booked on the popular website Epitourean are so popular. They pre-package culinary getaways in North America and book International Cooking Vacations. A variety of French Cooking Schools also offer lessons (in English) on how to cook like a French native in restored farmhouses and châteaus throughout France.  In Provence, France, Patricia Wells, author of The Provence Cookbook, will teach you how to make Provençal specialties. Stay in Wells's 18th-century hilltop farmhouse in historic Vaison-la-Romaine. She even offers a two-week fitness program, which includes healthy recipes and a personal trainer.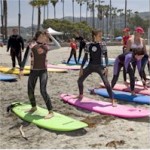 SURF'S UP
All-female surf camps like Chica Brava in San Juan del Sur, Nicaragua;  Surf Diva in La Jolla, CA offer weekend-long surf lesson packages that also include accommodations, meals and other activities. Or rent Surf 787 Villa in Rincon, Puerto Rico which also arranges the surf lessons. Before taking the plunge, what's better for girl-bonding than riding the waves together?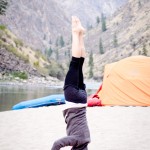 RIDE THE RIVER
An ideal getaway can be one that offers daring journeys into the wilderness but also provides built-in time to unwind and reflect. For those seeking this balance,  River Soul Journeys and Far and Away Adventures offer multi-day wellness trips that combine heart-pumping, river-based sports with soul-soothing leisure activities. The itinerary packages white-water rafting trips with yoga classes and meditation along scenic rapids in Idaho, Oregon and Washington. With female-only trips, you can make it an all-girl getaway.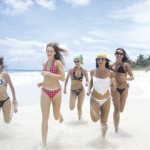 BIKINI BOOT CAMP
What better place to recharge than a secluded tropical setting once ruled by an ancient civilization that worshiped the sun. Centuries ago Tulum was the center of Mayan culture. Today it's still a magical place where health-conscious sun-worshipers come to reconnect with nature and with their inner selves. For active travelers ready to refocus mentally and physically, Bikini Bootcamp held at the eco-chic resort Amansala in Tulum, Mexico is choice. Multi-day packages offer the perfect fusion of healthy meals, kick-butt exercise, yoga and meditation.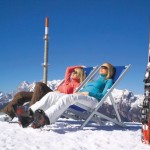 SKI & PLAY
It is difficult to put in to words the experience that is Girls' Ski Weekend. Let's start with this: a bunch of girls who love to ski together for the whole weekend. Add apres ski, hot tubbing and dinners out. Girls weekend doesn't get any better than this. The ultimate luxury ski in-ski out lodging and the best Bloody Marys are at the St Regis in Deer Valley, Utah. The hottest hot tub scene is at the Sky Lodge, Park City, Utah. For a fun night in a rustic steakhouse with Saturday night cover bands, check out the Wobbly Barn in Killington. Take a snowcat-drawn sleigh ride up the Green Mountains which brings you to the Killington Ledgewood Yurt. Here, you and your gal pals can indulge in a five-course dining adventure.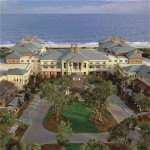 TENNIS LOVERS
For ladies looking to improve their game and enjoy a girls weekend,  bring your friends to an unforgettable experience in a perfect setting for a weekend in Kiawah, South Carolina. Women's Tennis Weekends in Kiawah are held in January and February, with packages that include staying at the gorgeous Sanctuary Resort. Tennis lovers, bring your friends to an unforgettable experience in a beautiful setting for a weekend of instruction, leisure and fun. TENNIS MAGAZINE also ranked these other three tennis resorts number one for comfort, amenities, dining, spas and other diversions in Vermont and Florida.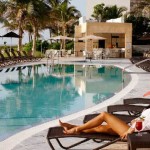 STAY & SPA
Go to Miami for a last-minute spa spring break. Temptation in South Beach is a 10-minute drive away, but with a full roster of killer classes that start at dawn, and are lead by fitness experts, Canyon Ranch Miami is the perfect spa hideaway for a girls weekend. Trips to the spa, pools, Aquavana (an indoor hydrotherapy lounge) and a calorie-conscious spa cuisine will have you in disbelief over the amenities offered at this resort. Need to get away for a spa weekend within driving distance? Check out these luxury spa resorts close to home where you can still get pampered in style.