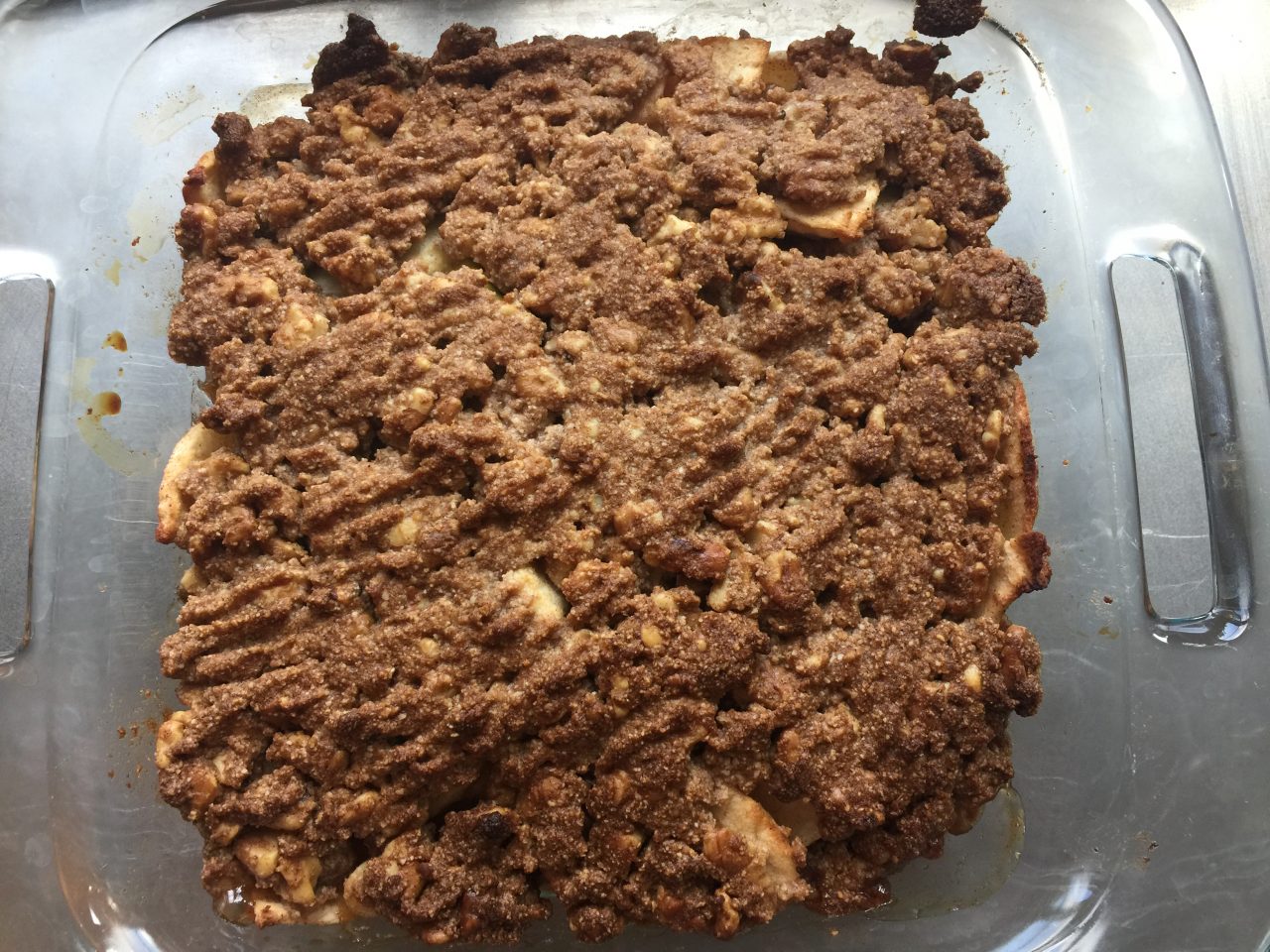 I gave up processed sugar. So, I have been experimenting with recipes that still taste great and satisfy my sweet tooth. This recipe is sooo good and packed with protein and healthy fats. I served it at a dinner party and everyone loved it.

Size:

6-8



Ingredients:
For the filling:
1/4 cup pure maple syrup
1 tablespoon lemon juice
1 tablespoon arrowroot powder or cornstarch
1 tsp ground cinnamon
1 tsp ground nutmeg
1/8 tsp pink himalayan salt
5 1/2 cups chopped and peeled medium apples-I used five
For the topping:
3/4 cup blanched almond flour
1 tablespoon coconut flour
2 1/4 teaspoons ground cinnamon
3 tablespoons refined coconut oil not melted just room temp.
3 tablespoons pure maple syrup
dash of salt
1 cup chopped pecans or walnuts
raw cacao powder-sprinkle on when serving-optional



Directions:




Preheat the oven to 350°F and get out an 8″x8″ pan.
Mix the maple syrup, lemon juice, arrowroot powder, cinnamon, nutmeg, and salt together in a large bowl.
Peel the apples, if desired, and core and cut into 1/3″ pieces. Place the apples in the maple syrup mixture and stir until the apples are well coated in the mixture. Place in the ungreased pan.
In a medium mixing bowl, stir together the almond flour, coconut flour and cinnamon. Then add the coconut oil, maple syrup and salt and mix until combined.
If you don't buy the nuts already chopped then pulse the pecans or walnuts in a food processor a few times until they're in small pieces (about 1/8″ in size). You can also chop them by hand but the food processor takes a lot less time. Stir the nuts into the topping mixture.
Drop walnut-sized pieces of topping over the apples. Gently press down any nuts that are sticking out so that they don't burn.
Bake for 40-50 minutes or until the topping is brown and crisp and the apples are bubbling. The topping will crisp up much slower than a traditional crisp, but don't worry as it will crisp up towards the very end of the baking time. Sprinkle with raw cacao powder when serving. Cover the crisp with foil if the topping starts to brown too early.
Let cool for 10 minutes and serve. If not serving immediately, once cool, loosely cover with a piece of plastic wrap (so the topping doesn't go soft). If storing overnight, properly cover the crisp with plastic wrap. Do note that the topping gets soft on the second day. I ate leftovers the second day and topping was still crunchy.