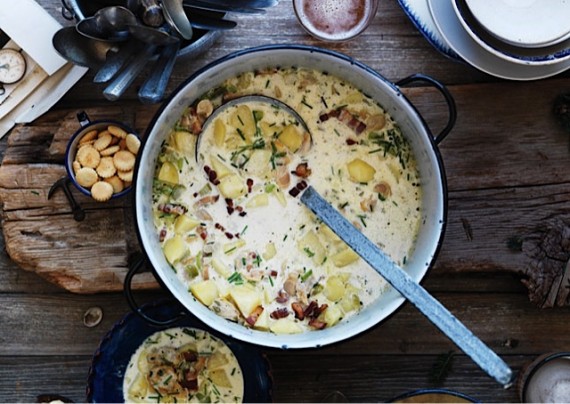 bonappetit.com

For me, clam chowder conjures up memories of the beach. While I've only attended a handful of Long Beach Island's Chowder Fests… the association between the two are one and the same. This recipe was never an entry (as far as I know), but it is worthy of the competition. If clams aren't available… using canned baby clams and clam juice works for this recipe as well.

Size:

8-10 servings



Ingredients:
8 lbs cherrystone clams, scrubbed (or 2 10 oz cans of baby clams)
1 tbsp unsalted butter
8 oz bacon, cut into 1/2" pieces
2 celery stalks, minced
1 large onion, minced
1 large garlic clove, minced
2 1/2 lb Yukon Gold potatoes, peeled, cut into 1/2" pieces
1 tbsp chopped fresh thyme
1 bay leaf
2 tsp cornstarch
2 cups heavy cream
Kosher salt, freshly ground pepper
Chopped fresh chives
Oyster crackers
If needed... (see directions), 6 cups bottled clam juice



Directions:




Bring clams and 4 cups water to a boil in a large pot over high heat. Cook until clams just open, 8-10 minutes (discard any that do not open). Using a large slotted spoon, transfer clams to a large rimmed baking sheet; set broth aside. Let clams cool slightly, then pull meat from shells; discard shells.

Chop clams into bite-size pieces. Strain broth through a fine-mesh sieve set over a large bowl. Add water if needed to measure 6 cups (Clams and broth can be made 1 day ahead. Cover separately and chill.).

Melt butter in a large heavy pot over medium heat. Add bacon and cook, stirring occasionally, until fat is rendered and bacon begins to brown, about 8 minutes. Add celery, onion, and garlic and cook, stirring often, until onion is translucent, about 10 minutes. Add reserved broth (or 6 cups bottled clam juice), potatoes, thyme, and bay leaf. Bring chowder base to a simmer; cook until potatoes are tender, 20-25 minutes. Stir cornstarch and 2 tablespoons water in a small bowl to form a slurry (a thin mixture of an insoluble substance). Stir slurry into chowder base; return to a boil to thicken.

(Base can be made 1 day ahead. Let cool; cover and chill. Keep clams chilled. Bring base to a simmer before continuing.)

Remove base from heat. Discard bay leaf. Stir in reserved clams (or 2 10 oz cans baby clams) and cream. Season with salt (if needed) and pepper.

Divide chowder among bowls. Garnish with chives and oyster crackers.