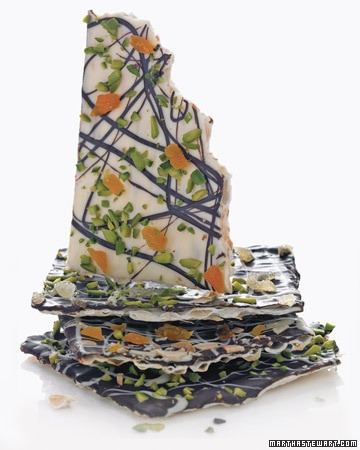 Thanks Martha for this simple and easy treat.  Turning plain matzo into a festive sweet bark loaded with chocolate, dried fruit and toasted nuts. 'Tis the season to be giving. Super gift idea.

Size:

1 box of matzo (about 11 pieces)



Ingredients:
11 oz each of white & dark chocolate
3/4 cup finely chopped toasted nuts
1 1/2 cups chopped dried fruit or crystallized ginger



Directions:




Brush one side of each piece of matzo with melted white or dark chocolate; drizzle remaining dark chocolate over white-chocolate-coated matzo and vice versa.

Sprinkle with fruit and nuts.

Refrigerate until chocolate is set, 15 minutes.  Break bark into pieces.  Serve immediately, or store in the refrigerator for up to a week.