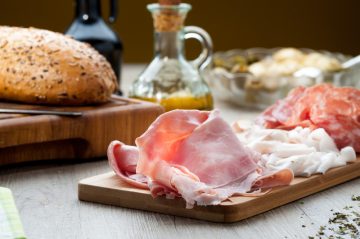 The title says it all… put whatever you want out.  Meats, cheeses, condiments, fillings… it's an endless, carefree option.  Great for get-togethers.  Here's a grocery list of sorts…

Size:

serves 10-12



Ingredients:
1 1/2 lb (18-20 slices) cooked bacon
2 3/4 lb of assorted sandwich meats, such as roast beef, pastrami turkey, ham, salami, prosciutto
8 oz assorted cheeses, such as Swiss, American, Brie, provolone, fresh mozzarella
assorted lettuces, such as romaine, arugula, Bibb, Boston
3 large tomatoes, thinly sliced
1 jar (14 oz) roasted red peppers
1 jar (7 1/2 oz) sun-dried tomatoes, packed in oil
1 jar (6 oz)marinated artichoke hearts
1 jar (8 oz) mayonnaise
1 jar (8 oz) mustard
1 jar (7 oz) tapenade
2 ripe avocados, peeled, pitted, and thinly sliced
assorted breads… sandwich bread, rolls, baguettes and focaccia



Directions:




Place the ingredients on serving dishes; cover with plastic wrap, and chill until ready to serve, up to several hours.  Slice bread just before setting on the table.