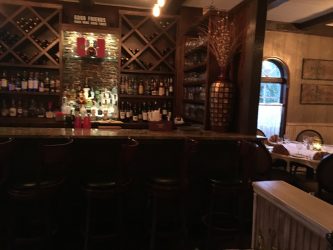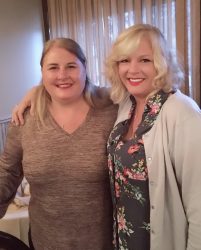 I have to say, I love this side job! Recently I was invited by a really sweet and persistent lady – Tara Fitzgerald Fuentes to visit her and her husband, Chef Mario's restaurant, Rialto in Carle Place.  From the minute we walked in, Tara was as warm and inviting as her homey Italian Restaurant. The decor was classic and refined, the staff beyond accommodating  – especially our server Tony.This man literally read the menu as if it were a small novella, with passion and gusto for the dishes he was describing. It was difficult to narrow down our apps, but as you all are learning, I like to keep it simple and classic. We were given fresh, crispy Focaccia bread along with Bruschetta and Olives and what I believe (I should have asked!) was a delicious Pecorino Romano Cheese. My love, had the grilled Calamari while I had the Clams Oreganata and a side Caesar Salad. We thoroughly enjoyed all our appetizers that it was difficult to leave room for the main course and dessert! When our main courses came – we had the Bronzino ( a European Bass) which was filleted tableside by Tony – who seriously looked as if he could perform that talent in his sleep – and I had the Pappardelle with a rich, Bolognese sauce topped with a dollop of ricotta cheese.Ok, ok, we may have over-ordered, but everything was so good! Even though I wanted to finish my pasta, I had to save it for my lunch the next day.
Tara popped by every so often to make sure everything was satisfactory, and in doing so, we learned about the history of the restaurant. Her husband Mario is a self-taught Chef and they have owned Rialto for six years. They are fortunate to live up the block and with Tara managing the restaurant and Mario cooking, they often have their children on hand to help out as well. Rialto exuded "family" and the vibe was comfortable – classy and homey. This was the perfect restaurant to escape the hustle and bustle of RVC and experience something new. I totally recommend this for a celebratory dinner, intimate dinner or even a girl's night out. The restaurant boasts a bar as well, and it looked very cozy to enjoy a cocktail while watching an evening game.
I thank Tara for taking the time out of her busy life to track me down and extend the invite to Rialto – we really enjoyed ourselves. Believe it or not, we managed to experience a dessert that came highly recommended- the Zucotto – This specialty dessert had Almonds, Hazelnut, Chocolate, Cream drizzled with Amoretto – A fabulous way to end our meal~!
Rialto has incredible specials too – check out their menus below. Oh, and when you finally DO venture to Tara and Mario's Restaurant, be sure to tell them Thea from Tips sent you – and grab a jar of marinara sauce to go!