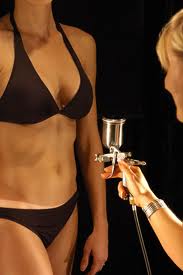 For many of us, the news that tanning beds are considered a cancer risk came as no surprise– maybe somebody should fill in the cast of Jersey Shore! There is no such thing as a healthy tan, at least not one caused by UV rays.  What are we to do until 'pale becomes the new tan?'  The answer– custom airbrush tanning.
This tanning solution is professionally applied in a private booth by a certified technician  using an air mist delivery system which will evenly coat the body in about 3-5 minutes.  The technician will vary the shade, depth, and color according to your skin type and preference.   The unique combination of natural bronzers and the approved cosmetic tanning agent DHA produce a truly remarkable tanning result.  You will experience an immediate natural looking tan that will continue to develop over the next 5-12 hours and last for a few days and possibly up to a week depending on your skin tone.
My two favorite places to go for a spray tan near Ridgewood,  Skinplicity in Wyckoff, and LA Sunset Tan in Ramsey.
Here are some tips before you go–
Shower and exfoliate your entire body– especially your knees, elbows, ankles, heels, and tops of your feet.  Wear loose fitting dark clothes and flip flops to your appointment and after you shower dry off with a dark colored towel. If you can don't shower until the next day if possible, and use moisturizer twice a day to help your tan last longer. One of our other editors goes first thing and the morning and showers just before bed because she can't sleep with it.