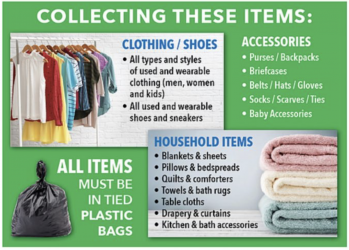 June 26, 2020  •  10am – 2pm
Have you been cleaning out your closets during quarantine but haven't been able to donate them? We have the solution!!! Ridge School is hosting a Contactless Clothing Drive Friday from 10am – 2pm at 325 West Ridgewood Ave in Ridgewood!
Donate:
• Clothing and Shoes– all types and styles of used and wearable clothing (men, women and kids)
• Household Items – blankets, sheets, pillows, bedspreads, towels, bathmats, tablecloths, curtains, etc.
• Accessories – purses, backpacks, briefcases, belts, hats, gloves, socks, scarves, ties, baby accessories • No plastic toys but we will accept stuffed animals!
Ridge Elementary School, 325 West Ridgewood Ave in Ridgewood!