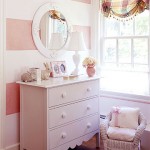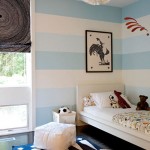 While painting vertical stripes in a room will make it appear to have more height, painting horizontal stripes in a room will make it appear larger. Painting horizontal stripes in a room is handy not only for small rooms but for large rooms as well. There's no right or wrong way in choosing how you paint horizontal stripes in your bedroom, living room and even your foyer walls as long as the design pleases you.  You can also do it yourself with the simple instructions below:
Step 1: Measure and mark the wall for stripes. The first step is to take a measurement of the wall . For instance, if wall is 91″ high divide the height of the wall by five. Mark the wall every 18 inches (Image 2).Use a level to mark a straight line on the wall.
Step 2: Tape off the area for the stripes. Use painter's tape just below the line marked so you will be able to paint over the pencil mark. Press the tape edge firmly against the wall to prevent the paint from bleeding. Pencil mark the stripes that will be painted to eliminate confusion.
Step 3: Apply the paint and remove the tape. Use a paintbrush at edges and roller in the body of the stripes. Remove painter's tape while paint is wet to avoid paint peeling when dry. The finished room looks great!