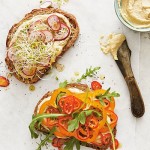 Crunch, munch, lunch!  Super fresh, super crispy and super delicious.  Oh… and did I forget, healthy?

Size:

makes 4 servings



Ingredients:
8 slices whole grain bread-I use Ezekiel bread
3/4 cup hummus
1 orange, yellow, or red bell pepper, sliced
1/2 cup baby arugula
4 radishes, thinly sliced
1/3 cup clover, broccoli, or alfalfa sprouts
1 tbsp roasted garlic-flavored olive oil (in oil & vinegar section of supermarket)
1 tbsp fresh lemon juice
Salt and cracked pepper to taste



Directions:




Spread bread slices evenly on 1 side with hummus. On 4 slices, layer bell pepper and arugula. On 4 remaining slices, layer radishes and sprouts. Stir together olive oil and lemon juice; drizzle over vegetables. Season with salt and pepper to taste. Combine sandwich halves.