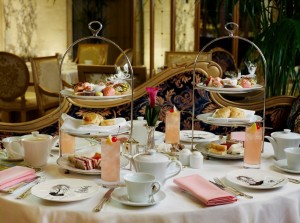 Having afternoon tea can be a fun outing with kids. Whether you're celebrating a special occasion or just looking for a memorable experience. It's an especially great rainy day outing that puts you in the mood of old Victorian New York. There are several places that serve high tea in New York City.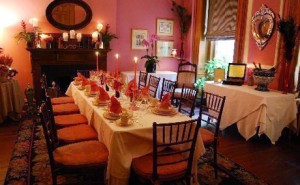 Lady Mendl's Tea Salon – Gramercy
56 Irving Place between 17th and 18th Streets
Lady Mendl's is a true Victorian tea salon in a brownstone on Irving Place that serves an elegant, classic English afternoon tea. Sit on couches by the fireplace or at elegantly-set tables. The fancy room, service and touches like decorative rose sugar. There are no gimmicks here or a child's menu. The five-course tea includes sandwiches, scones with Devonshire clotted cream and jam, desserts and bottomless pots of tea from a wide selection, including several of the spot's own blends. Girls ages 8 and up will appreciate this more formal and grownup atmosphere the most. The five-course afternoon tea takes at least an hour and a half. While children are welcome, use your discretion as to whether your younger kids can sit through it. During the week there's a little more room for squirminess as the salon is generally less crowded.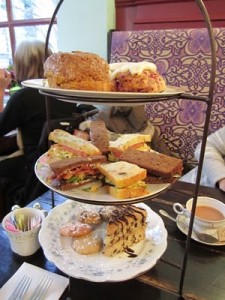 Alice's Tea Cup – Upper East and Upper West Sides
156 East 64th Street between Third and Lexington Avenues
220 East 81st Street between Second and Third Avenues
102 West 73rd Street at Columbus Avenue
Only someone with a heart of stone would fail to be enchanted by Alice's Tea Cup. With three NYC locations, it has the most magical atmosphere and the best food of any tea house. All three outposts are tiny so expect a bit of a wait. There are butterfly wings everywhere (you can borrow a pair during your visit or buy a set in the gift shop), they will sprinkle you with fairy dust and the "Menu for the Small" with items like apple slices with peanut butter or Nutella. Their pumpkin scones are to die for! "The Wee Tea" for kids includes a pot of tea or other beverage, one scone, choice of any children's menu item and dark chocolate mousse. Best For: Everyone. The food is great, there are lots of options and it's not too pricey. This is Amy's favorite place for breakfast and lunch. The scones and salads and are out of this world. Here is the recipe to their chocolate strawberry scones. They are definitely worth making.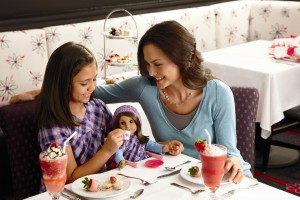 American Girl Tea – Midtown East
609 Fifth Avenue at 49th Street
Overall, this is a wonderful experience that your little girl will cherish. Kids Will Love: Having a doll sit beside them in her own little seat with her own place setting. The café provides plenty of dolls to choose from if your daughter doesn't have her own. Tea sandwiches, butterfly cookies and chocolate mousse flowerpots are among the highlights Best For: Girls of all ages who love dolls.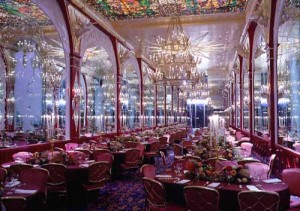 The Russian Tea Room – Midtown West
150 West 57th Street between Sixth and; Seventh Avenues
This iconic NYC restaurant offers a Children's Tea with a few Russian touches like peanut butter and jelly blinis. Overall it lacked the charm of many others, and suffered a bit from the soulless feeling of a tourist destination. On the other hand, its lack of frilliness made it possibly the best tea for boys. Hot chocolate with whipped cream and a whole plate of desserts just for them. Seeing the fancy Russian toys in the gift shop is fun too. Tea served Russian-style or hot chocolate, a tiered carousel of kid-friendly tea sandwiches and that aforementioned plate of desserts. See the full menu. The restaurant is frequently empty so the antics of small children are accommodated.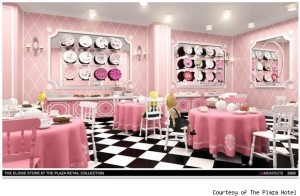 Eloise Tea at the Plaza – Midtown West
Fifth Avenue at Central Park South
The stunning Palm Court at the Plaza Hotel reopened in 2010 after extensive renovations, and launched the Eloise Tea Menu, as well as an Eloise Shop and even an Eloise Suite all inspired by the popular children's book series. Stop by the pinked-out Eloise Shop where they can play dress-up, watch Eloise movies in the "reading room" or play pretend tea. Tea sandwiches like peanut butter and jelly, grilled cheese, and strawberry and cream cheese, plus cookies and pink Jello, all served on a tiered platter along with pink lemonade or peppermint iced tea.