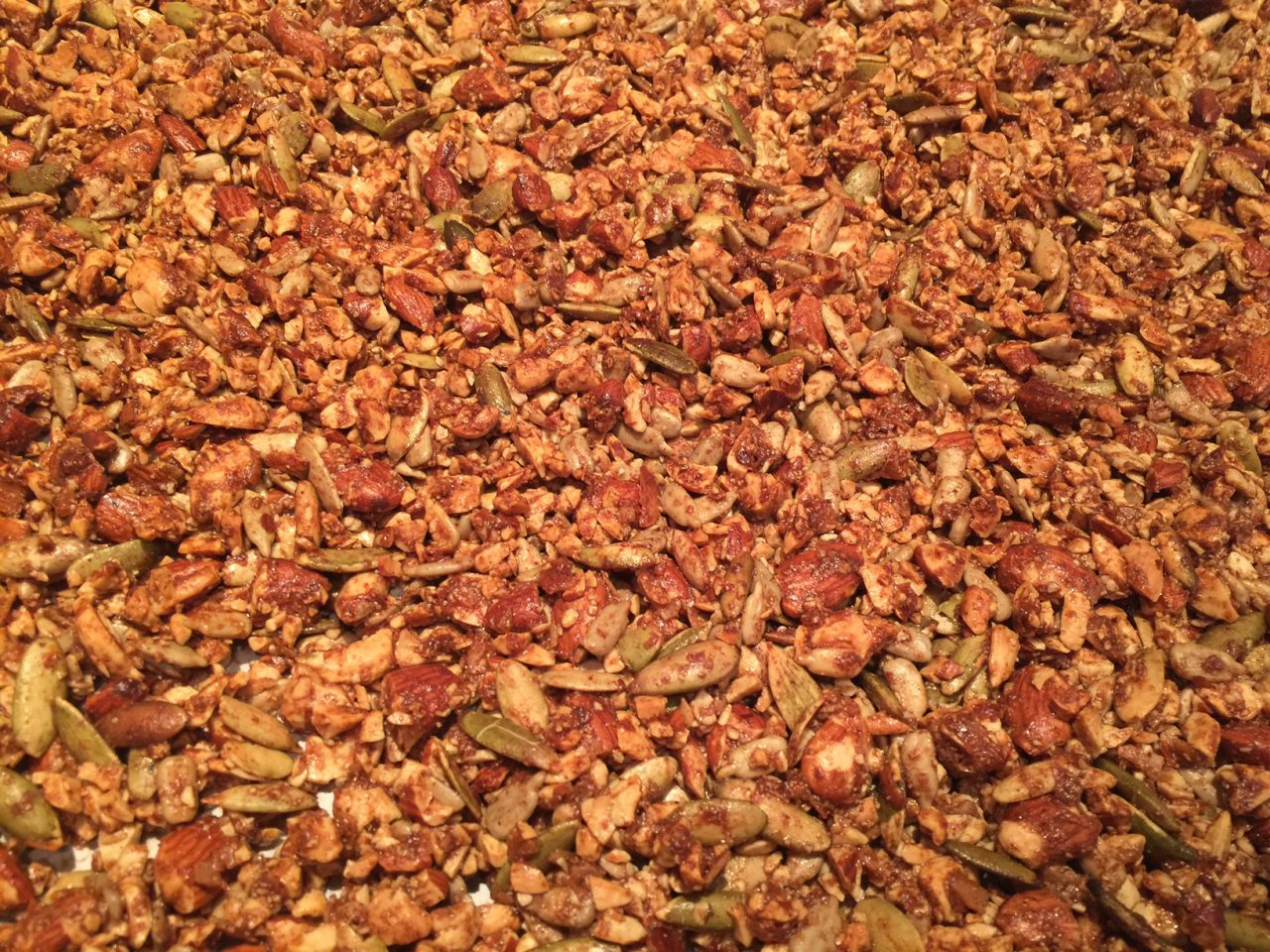 This is super simple to make and good for you. I have trouble finding granola that isn't loaded with processed sugar. I just made two batches. Serve a quarter cup on top of a 1/2 cup of all natural greek yogurt. This makes a great snack in between meals or for breakfast.
Ingredients:
2 cups raw almonds
2 cups raw cashews
2/3 cup raw pumpkin seeds(pepitas)
2/3 cup raw sunflower seeds
1/2 cup unrefined coconut oil
1/2 cup raw honey
2 tsp. pure vanilla extract
pinch of salt-optional
4 tsp. ground cinnamon
1 cup dried cranberries or cherries-make sure they do not contain processed sugar
1/2 cup coconut flakes


Directions:
Preheat oven to 275 degrees
In a food processor, add almonds, cashews, and coconut flakes to chop into small pieces. Do not over blend.
Heat coconut oil, honey, cinnamon, and salt over medium high heat in a large saucepan, for about 3-5 minutes. Remove from heat and stir in vanilla. Then add seeds, nuts, and coconut flakes and stir to coat.
Spread granola mixture evenly onto a baking sheet lined with parchment paper.
Bake for 22-25 minutes or until lightly browned. Remove from oven and add dried cranberries, may need to press into granola mixture.
Allow to cool for about 20 minutes or until hardened. Break apart granola. Store in an airtight container or mason jar for up to 2 weeks.
I found everything I needed at Trader Joe's. Great prices there. You can also add gluten free oats if you like. Just decrease something else.