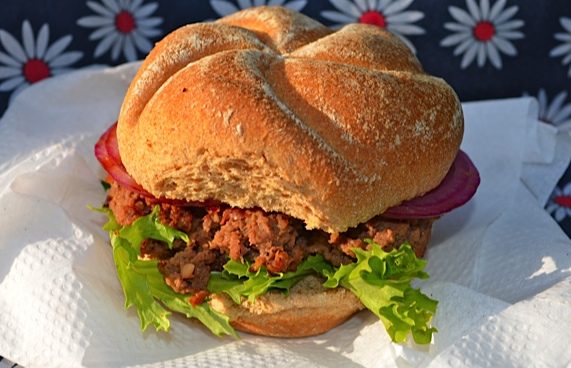 prepared by and photo by Emily Doscher

A little twist on your average beef burger.  Grilled onion intensifies it's flavor.  No cheese necessary.   Serve with coleslaw, chips and garlic pickles.

Size:

4 servings



Ingredients:
1/4 cup mashed drained canned kidney beans
1 lb ground beef
6 tbsp hickory barbecue sauce, divided
2 tsp prepared white horseradish, drained
4 tsp minced garlic
1/2 tsp salt
1/2 tsp pepper
Nonstick vegetable oil spray
4 oversize whole-wheat rolls, halve
4 1/3" slices red onion
Watercress sprigs or lettuce leaves



Directions:




Place mashed beans in medium bowl.  Mix in beef, 4 tbsp hickory barbecue sauce, prepared horseradish, garlic, salt and pepper.  Shape into four 1/2″ thick patties.

Prepare barbecue (medium heat).  Spray cut sides of rolls and both sides of burgers and onion slices with nonstick spray.  Grill cut sides of rolls until toasted about 1 minute.  Transfer rolls to plates.  Grill burgers about 4 minutes per side for medium; grill onion slices about 5 minutes per side.  Place burger, 1 onion slice, 1/2 tbsp barbecue sauce and some watercress or lettuce on each roll bottom.  Cover each with roll top.